Endlich! Weihnachten vorbei und Ostern vor der Türe:
Wir starten den #GmbH Meme Contest Numero VI. Mr. Gewinn-Budget für April ist auch wieder am Start.
Gleich vorneweg. @quantumg, du musst jetzt stark sein, deine Schwiegereltern haben es auf das höchste Podium der GmbH geschafft. Die zwei sind die Hauptdarseller des sechten Meme-Contest. Ich hoffe auf so manch eine Schweinerei.
Ein Monat ist vergangen seit dem letzten Meme-Contest und das schöne ist, das in der GmbH immer was los ist. Auch ausserhalb des Contests gibts immer genug zu lachen. Aber jetzt gehts wieder nur um eins: Memes!
Im letzten Monat hat sich @nftland1989 ein knappes Rennen mit @theadamprost und @fredfettmeister geliefert, insgesamt gab es 15 Memer die alle ihr bestes gaben.
Nach vielen tierischen Memes gehts im April ganz menschlich zu, viel Spass dabei.
So lasst die Memes in die GmbH purzeln!
Wer die GmbH noch nicht kennt: GmbH = Gemeinschaft mit beschränktem Humor. Eine Community auf Hive die auch dem seichtesten Humor noch etwas abgewinnt. Es gibt keine Vorgaben bei uns, außer das irgendein humorähnlicher Aspekt getroffen werden sollte.
Was zum... ist ein Meme?
Meme (Kulturphänomen), kreativer Inhalt, ist in der Regel humoristisch und aufheiternd, manchmal auch satirisch.
Bei Memes kann es sich um selbst erstellte Werke handeln, aber auch um montierte oder aus dem ursprünglichen Kontext gerissene Fotografien, Zeichnungen, Animationen oder Filme (Wikipedia)
Gewinne Gewinne Gewinne
1 Preis: 5 Hive + 125 Meme Token
2 Preis: 3 Hive + 100 Meme Token
3 Preis: 2 Hive + 75 Meme Token
5 mal 40 Meme-Token für die ersten 5 Einsendungen, falls man zu den Gewinnern zählt verschieben sich die Meme-Token um eine spätere Einsendung.
| Gewinne | Meme-Tribe |
| --- | --- |
| Die Gewinne werden von mir (@siphon) gesponsert. Wer einen Sponsorenbeitrag leisten möchte (Hive oder Token) ist herzlich Willkommen und spricht mich am besten direkt an. In jedem Falle wird dieser natürlich gern dazu addiert und der Gönner würdigend erwähnt. | |
Die Gewinner werden wie immer in einem möglichst komplizierten Verfahren bestimmt, so das Qualität, Quantität, Punch und Lustigkeit neben dem Eintragen des Beneficiaries (fürs LIL Bild) das Einzigste ist das dein Meme in die Gewinnerliste schieben kann. Wie immer beim GmbH Meme Contest ist mit maßloser Anarchie im Ablauf und Inhalt zu rechnen.
Bonus oder was? gibts für Memes die einen Oster-(ähnlichen) Gruss bzw. Inhalt einfliesen lassen.
Was sind die Voraussetzungen um teilzunehmen?
Es können mehrere Memes erstellt werden, aber nur das erste (oberste) Meme in deinem Post nimmt teil.
Der Post muss in der GmbH Community gepostet werden.
Das Original Bild aus diesem Contest muss genutzt werden.
Es muss eine deutsche Version geben.
Jeder kann nur mit einem Account teilnehmen. Keine Alt-Accounts keine Zweit- Dritt- Accounts.
Der Contest endet mit der Auszahlung dieses Posts am Dienstag den 19.04.22
Optionale Bedingungen
Alternative Teilnahme
Falls du keinen Post machen möchtest, kannst du dein Meme hier als Kommentar einstellen. (Nachteil: Du erhältst keine Extra Punkte für das Einstellen des Foto-Autors als Beneficiary und hast keine Chance auf ein extra Vote vom LMAC-Trail. Vorteil: Du bist schnell :)
Die Meme Vorlage für den fünften GmbH-Contest entstammt der LMAC Image Library und kann frei genutzt werden.
Es wäre ein feiner Zug wenn man den Autor des genutzten Fotos mit 2% bei den Beneficiaries des Posts einträgt als Wertschätzung für dessen Arbeit. Die Bilder der LIL werden von Hivians aufgebaut die vollständig auf ihre Rechte an Ihren Bildern verzichten.
Den Autor als Beneficiary einzutragen und den tag #lil zu nutzen berechtigt mit etwas Glück zu einem Vote aus dem LMAC-Trail. Außerdem erhält man bei der Bewertung des Memes im Zuge der Gewinnverteilung Bonuspunkte.
| LMAC Discord | LMAC |
| --- | --- |
| Im Discord von LMAC gibt es seit kurzem einen eigenen Kanal für die GmbH. Dort verlinkt ihr euren Contest Post damit @shaka und sein Trail euch schnell findet und votet. Voraussetzung ist der Eintrag (2%) des LIL-Bild-Sponsors. Heute ist das @quantumg. Den GmbH-Kanal im LMAC-Discord findet ihr hier: https://discord.gg/WxrqumKR | |
Meme-Vorlage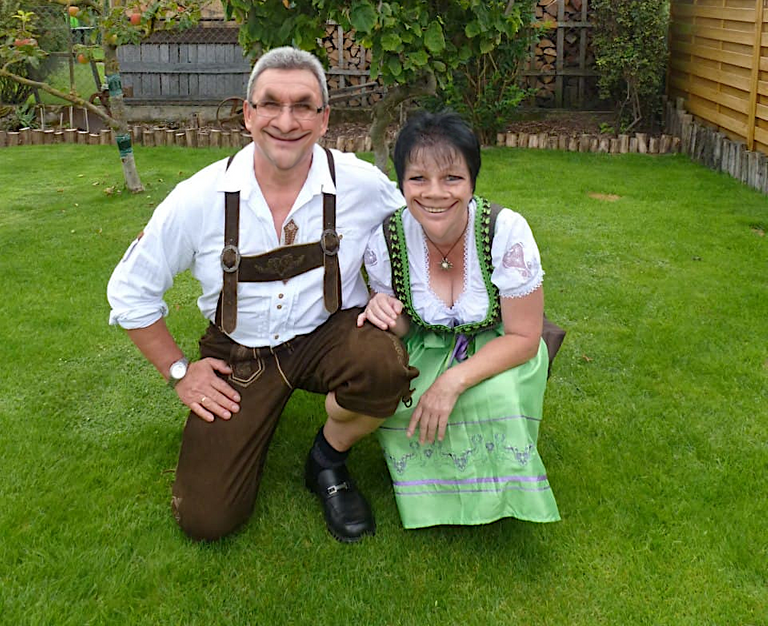 LIL Foto Autor:
@quantumg
Wer hat das Bild in der LIL-Gallerie zur Verfügung gestellt?
Unser heutiger Bild-Spender ist sicherlich allen bekannt, es ist @quantumg der in kürze seinen 2 jährigen Geburtstag auf der Chain feiert. Seine Schaffenskraft auf der Datenkette besticht durch professionell anmutende Collagen und hypermotivierterm LIL-Gallery Aktivismus.
Der Titel des Bildes ist: My parents-in-law in southern German traditional costumes. (Faces are made unrecognizable. I got the permission.) und wurde wie immer bei unserem Contest, in der LIL-Gallery für die Allgemeinheit zur Verfügung gestellt.
Wie steuerst du eine Meme-Vorlage bei?
Dazu muss dein eigenes Blanco-Meme in der https://www.lmac.gallery/ gelistet werden. Wie das funktioniert wird in dem Post Let's Build the LMAC Image Library! erklärt.
Wo kredenzt du dir ein eigenes Meme mit der Vorlage?
Wo immer du möchtest, auf Zeichenprogrammen deines Computers, auf deinem Smartphone oder ganz easy bei einem Meme Generator im Web: https://imgflip.com/memegenerator es gibt aber auch viele andere die genauso gut sind.
Du hast kein Bock ein Foto zu bearbeiten? Dann mach deinen Text drüber, drunter oder daneben.
Noch ein Tipp? Wenn du deine Gewinnchancen erhöhen willst dann mach neben dem Meme noch eine passende oder sogar lustige Geschichte drum herum oder verändere die Vorlage im Sinne des Memes. Die Vorlage sollte allerdings noch erkennbar vorkommen ;)
Dir fällt nichts ein?
Kein Problem, mach ein scheiß Meme. Beim machen wird es besser!
Ich hoffe das ich an alle Eventualitäten gedacht habe, vom super motivierten bis zum flügellahmen, hier sind alle willkommen.
Übrigens, wenn du bei der GmbH subscribst und deinen ersten Post absetzt erhältst du automatisch (von Hand) eine Member Mitgliedschaft in der GmbH.
Du kannst Teile meiner Contest-Ankündigung in deinem Post einbauen wie die Teilnahmebedingungen, wenn du möchtest, aber bitte verzichte auf eine Übersetzung meines Posts in deinem Beitrag. Eine Übersetzung deines Beitrags in jedwede Sprache ist selbstverständlich möglich. Viel Spaß!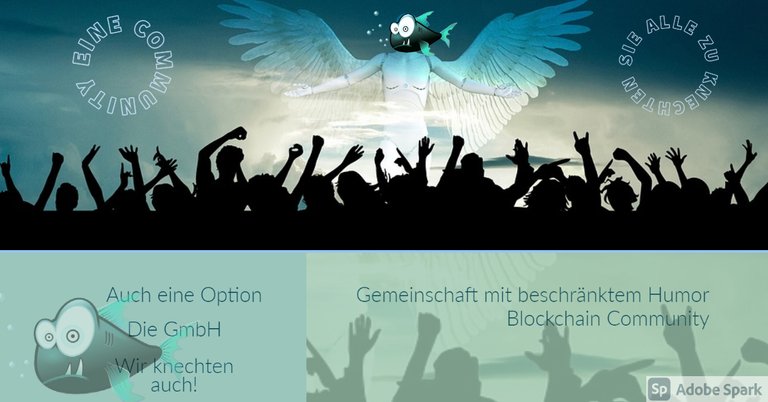 Abo-Mentions: @lammbock @burn950 @nftland1989 @andy.zaphod @fredfettmeister @mein-senf-dazu @ceridwen @quantumg @networkallstar @kvinna
Wenn du keinen GmbH-Contest mehr verpassen möchtest kommentiere: Abo
Wenn kein Mention mehr erwünscht ist kommentiere: obA
Für Kritik, Vorschläge, Sponsoren und Lob bin ich natürlich unglaublich offen :)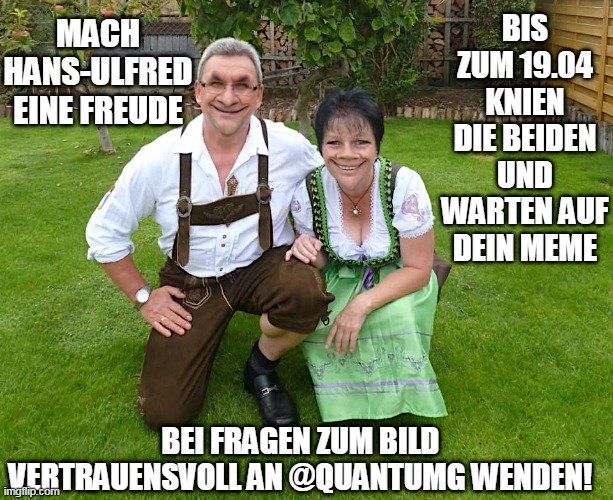 Ps. Wer an Ostern mit den Eiern spielt, hat zu Weihnachten die Bescherung.