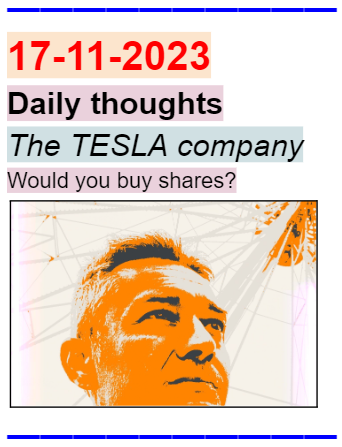 ---
~~~ La versione in italiano inizia subito dopo la versione in inglese ~~~
---
ENGLISH
Considerations
A few days ago I saw a TESLA Model 3 in a supermarket parking lot.
The car immediately caught my attention, here is the link to view the photos:
https://m.liketu.com/@stefano.massari/tesla-model-3-the-first-sighting-en-it
Just as I was looking at it, the owner arrived and after an initial moment of embarrassment I thought of complimenting him on the purchase, assuring him that I was only there to look at the car.
The owner stopped to talk to me and passed on his enthusiasm to me. He was certainly very happy with the purchase and among other things he was able to take advantage of some incentives which allowed him to purchase the car at a rather affordable price.
It's been a long time since I've seen someone so happy about purchasing a car.
After a few days I thought about that meeting and asked myself, how is TESLA going now?
According to some articles TESLA had a record increase in sales in 2022. The figures appear to show a sales increase of around 40% year over year and a production increase of 47%.
I read that TESLA declared it was aiming for a 50% growth which in fact did not occur, but it is also true that today TESLA is no longer considered the only reliable seller of electric cars.
Today there are Chinese companies and startups like Lucid and Rivian, but even car companies like Volkswagen and Renault today have electric car models. It seems that Toyota will also soon come out with a fully electric car model.
Today TESLA released the 2023 Tesla Model 3 onto the market, a product that should have a more affordable price than all other models.
A TESLA share today is worth $235, in one year the TSLA stock has made a +25%, in the last month it has made -7%.
Conclusions
The TESLA company still seems to be driving the electric car market even if it has not achieved the objectives it had set for itself, but the results show growth.
Request
In your opinion, would it be worth buying TESLA shares? If YES, would it be better to buy them now or wait a little longer?
Referral link
Haven't signed up for Ecency yet? Want to try HIVE mobile blogging?
Here is my Ecency referral link:
https://ecency.com/signup?referral=stefano.massari
---

---
ITALIAN
Considerazioni
Qualche giorno fa ho visto una TESLA Model 3 in un parcheggio di un supermercato.
L'autovettura ha attirato subito la mia attenzione, qui di seguito il link per visionare le foto:
https://m.liketu.com/@stefano.massari/tesla-model-3-the-first-sighting-en-it
Proprio nel momento in cui la stavo osservando è arrivato il proprietario e dopo un primo momento di imbarazzo ho pensato di fargli i complimenti per l'acquisto assicurandogli che ero li solo per osservare l'autovettura.
Il proprietario si è fermato a parlare con me e mi ha trasferito il suo entusiasmo. Sicuramente è stato molto contento dell'acquisto e tra l'altro ha potuto usufruire di alcuni incentivi che gli hanno potuto permettere di acquistare l'autovettura ad un prezzo piuttosto conveniente.
Era da tempo che non vedevo una persona così contenta di aver acquistato un'automobile.
Dopo qualche giorno ho ragionato sopra a quell'incontro e mi sono chiesto, ma ora TESLA come sta andando?
Secondo alcuni articoli TESLA ha avuto un aumento record delle vendite nel 2022. Le cifre sembrano mostrare un aumento delle vendite di circa il 40% su base annua e un aumento della produzione del 47%.
Ho letto che TESLA avrebbe dichiarato di puntare ad una crescita del 50% che in effetti non c'è stata, ma è anche vero che oggi TESLA non è più considerato l'unico venditore affidabile di auto elettriche.
Oggi ci sono aziende cinesi e startup come Lucid e Rivian, ma anche le case automobilistiche come Volkswagen e Renault oggi hanno modelli di autovetture elettriche. Sembra che anche Toyota a breve uscirà con un modello di autovettura totalmente elettrico.
Oggi TESLA ha emesso sul mercato la Tesla Model 3 2023, un prodotto che dovrebbe avere un prezzo più abbordabile di tutti gli altri modelli.
Un'azione TESLA oggi vale 235$, in un anno il titolo TSLA ha fatto un +25%, nell'ultimo mese ha fatto un -7%.
Conclusioni
L'azienda TESLA sembra ancora trainare il mercato delle vetture elettriche anche se non ha raggiunto gli obiettivi che si era prefissata, ma i risultati mostrano una crescita.
Domanda
Secondo voi, sarebbe il caso di acquistare azioni TESLA? Se SI sarebbe meglio comprarle ora o aspettare ancora un po di tempo?
Referral link
Non ti sei ancora iscritto ad Ecency? Vuoi provare il blogging su HIVE da mobile?
Qui di seguito il mio referral link di Ecency:
https://ecency.com/signup?referral=stefano.massari
THE END