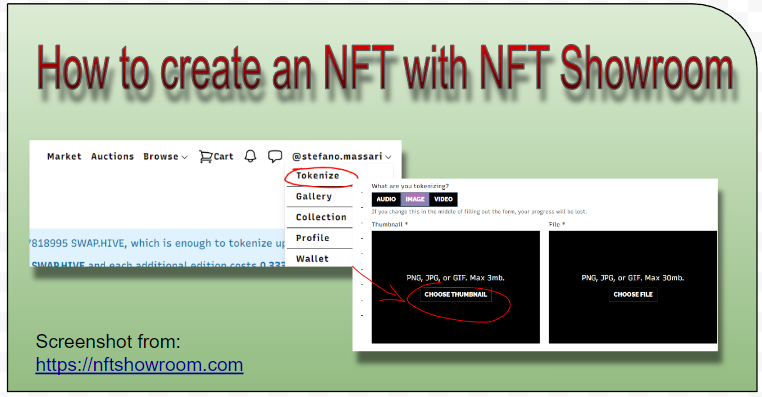 Screenshot from:
https://nftshowroom.com
---
~~~ La versione in italiano inizia subito dopo la versione in inglese ~~~
---
ENGLISH
Considerations
The steps to create an NFT with NFT ShowRoom are described below.
-1-
Once you have entered the NFT ShowRoom site ( https://nftshowroom.com/ ) log in with your HIVE user, go to the right of the screen and click on Tokenize
image.png](

)
-2-
You will now enter the NFT creation page, the MINT TOKENS page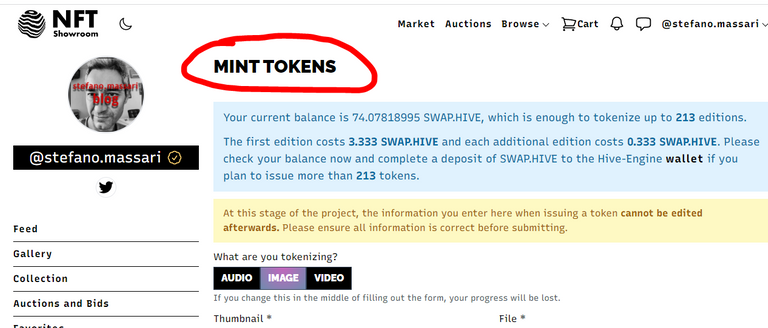 -3-
When asked what we want to tokenize we have to answer "IMAGE", so we select the box where "IMAGE" is written

-4-
Click on the "CHOOSE THUMBNAIL" button and insert the presentation image, it must be a small image.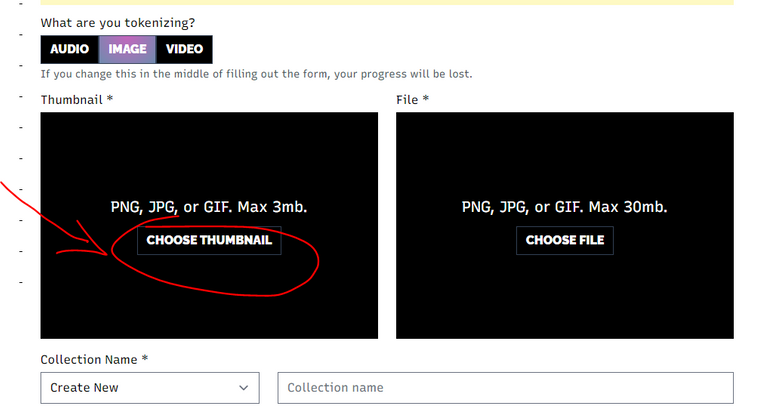 -5-
Now you have to insert the image you want to turn into an NFT by going to the right window in the middle of the page and click on "CHOOSE FILE". then you have to upload the file.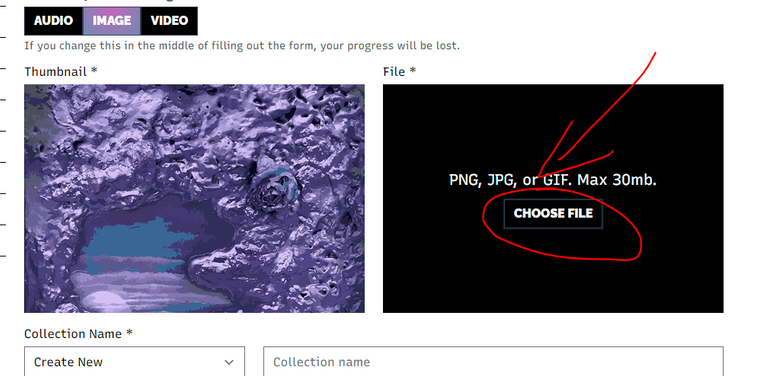 -5-
Fill in the various descriptive fields, see image below.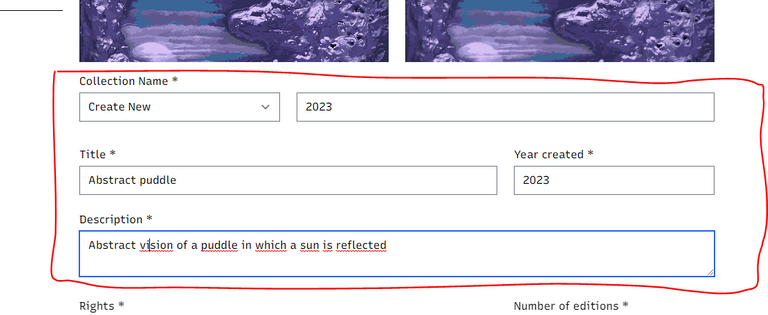 -5-
Proceed with the selection of the rights that will apply to the image once it is transformed into an NFT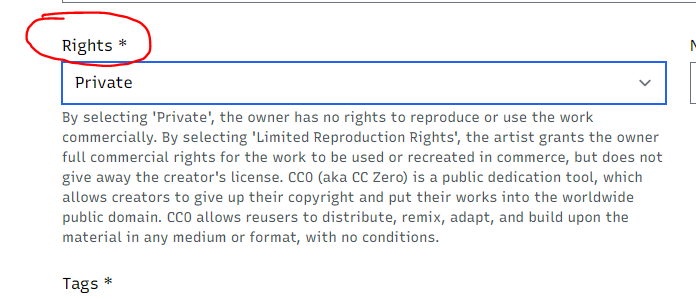 -6-
Choose how many copies to release as NFTs, i.e. choose the number of editions to be created.

-7-
Insert Tags.

-8-
Read the three final questions and approve them if necessary.

-9-
Click on the "MINT NFT" button

Conclusions
Creating NFT with the NFT Showroom platform is quite simple, there are several steps, but they are required in a logical and sequential manner, which makes it easy to perform the entire procedure.
Question
Have you already looked at the NFT Showroom website?
---

---
ITALIAN
Considerazioni
Qui di seguito sono descritti i passi da fare per creare un NFT con NFT ShowRoom.
-1-
Una volta entrati nel sito di NFT ShowRoom ( https://nftshowroom.com/ ) entrare con il proprio utente HIVE, andare sulla destra della schermata e cliccare su Tokenize

-2-
A questo punto si entra nella pagina per la creazione del NFT, la pagina MINT TOKENS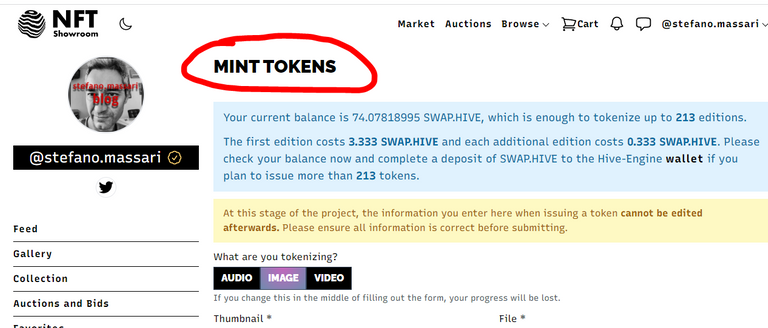 -3-
Alla domanda su cosa vogliamo tokenizzare dobbiamo rispondere "IMAGE", quindi selezioniamo il riquadro dove troviamo scritto "IMAGE"

-4-
Cliccare sul pulsante "CHOOSE THUMBNAIL" ed inserire l'immagine di presentazione, deve essere un immagine di piccole dimensioni.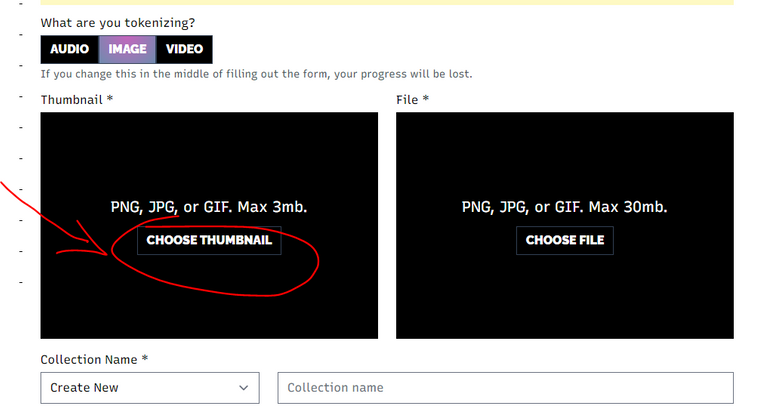 -5-
Ora bisogna inserire l'immagine che vogliamo trasformare in un NFT andando sulla finestra di destra in mezzo alla pagina e cliccare su "CHOOSE FILE". dopodiché bisogna caricare il file.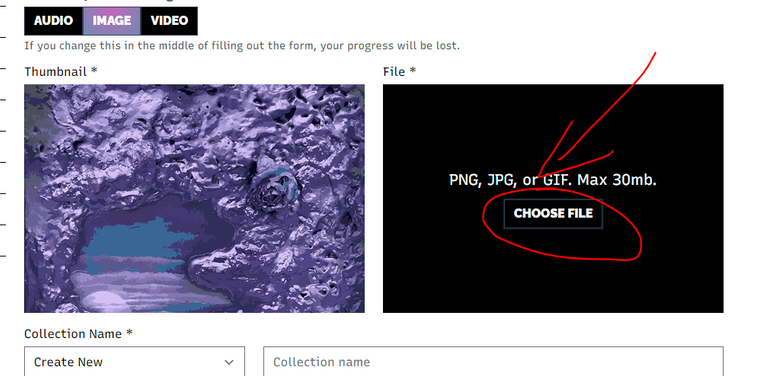 -5-
Compilare i vari campi descrittivi, vedi immagine sotto.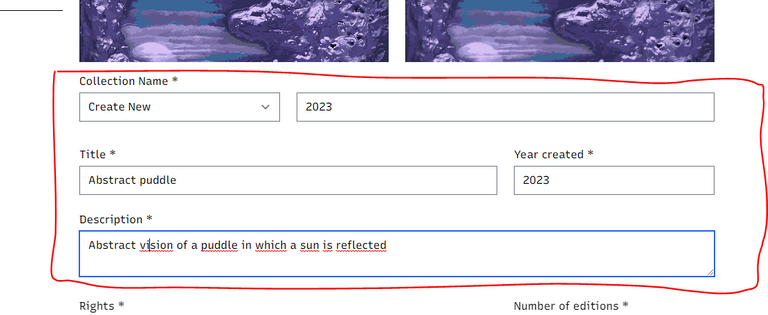 -5-
Procedere con la selezione dei diritti che si applicheranno all'immagine una volta che verrà trasformata in un NFT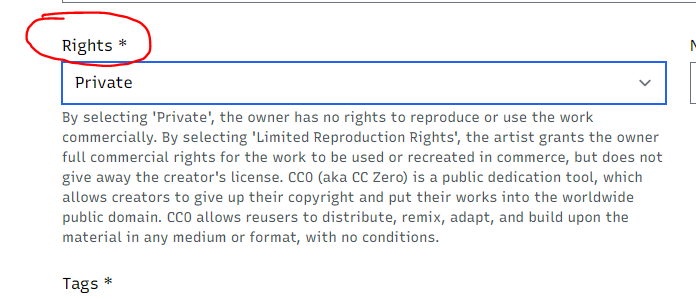 -6-
Scegliere quante copie rilasciare come NFT, cioè scegliere il numero delle edizioni da creare.

-7-
Inserire i Tags.

-8-
Leggere le tre domande finali ed eventualmente approvarle.

-9-
Cliccare sul bottone "MINT NFT"

Conclusioni
Creare NFT con la piattaforma di NFT Showroom è abbastanza semplice, i passi da compiere sono diversi, ma sono richiesti in maniera logica e sequenziale e questo rende semplice eseguire l'intera procedura.
Domanda
Avete già visionato il sito di NFT Showroom?
THE END