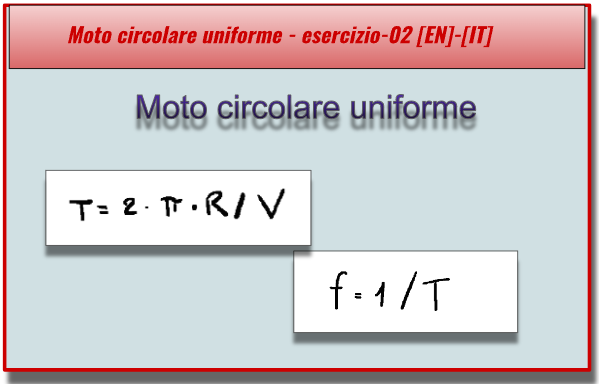 ---
~~~ La versione in italiano inizia subito dopo la versione in inglese ~~~
---
ENGLISH
Uniform circular motion
Uniform circular motion is the motion of an object making a circular trajectory with constant velocity.
This velocity is called the tangential velocity and represents the length of circumference traveled during the period of rotation. The formula is as follows: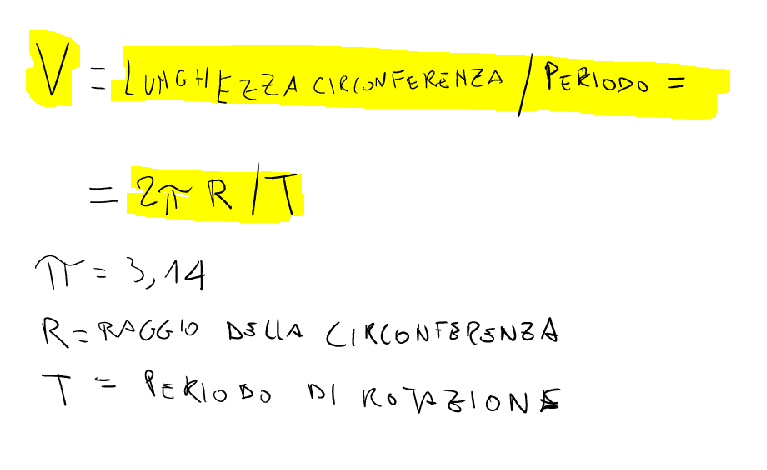 Let us clarify the concept of period of rotation and frequency of motion.
The period of rotation is the interval of time it takes to complete one revolution

Frequency of motion, on the other hand, indicates how many complete revolutions have been completed in one second.

Exercise
An object moves along a circumference whose radius is 10 m. The tangential velocity of the object is constant and is 20 m/s.
Calculate the frequency of the motion.
Let's think about the formula for the tangential velocity:

From this formula we can derive T:


From here we derive the following:

So the period T, that is, the time interval to complete one full revolution, is 3.14 seconds.
Now we calculate the frequency knowing that the frequency is the inverse of the period:

So we have that the frequency is 0.32 Hz, that is, this object completes 0.32 complete revolutions in 1 second.
Conclusions
The frequency the frequency of the motion of the object described earlier is 0.32 Hz

ITALIAN
Il moto circolare uniforme
Il moto circolare uniforme è il moto di un oggetto che compie una traiettoria circolare con velocità costante.
Questa velocità si chiama velocità tangenziale e rappresenta la lunghezza di circonferenza percorsa durante il periodo di rotazione. La formula è la seguente: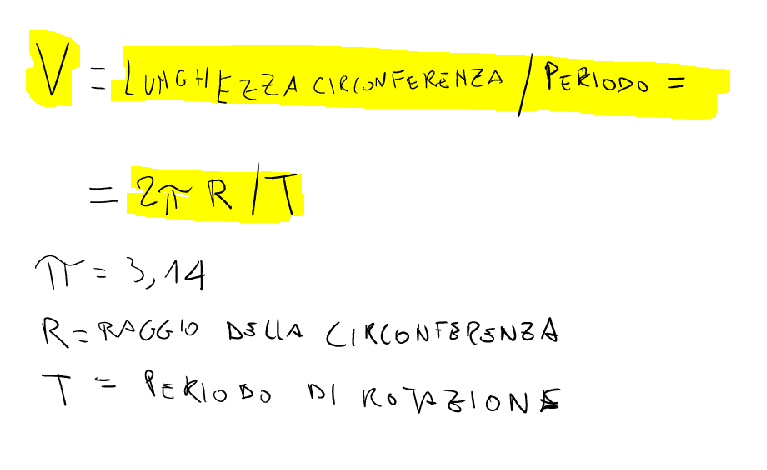 Chiariamo il concetto di periodo di rotazione e frequenza del moto.
Il periodo di rotazione è l'intervallo di tempo necessario per compiere un giro

La frequenza del moto indica invece quanti giri completi si sono percorsi in un secondo.

Esercizio
Un oggetto si muove lungo una circonferenza di cui il raggio è di 10 m. La velocità tangenziale dell'oggetto è costante ed è pari a 20 m/s.
Calcolare la frequenza del moto
Pensiamo alla formula della velocità tangenziale:

Da questa formula possiamo ricavare T:


da qui ricaviamo la seguente operazione:

Quindi il periodo T, cioè l'intervallo di tempo per compiere un giro completo, è di 3,14 secondi.
Ora calcoliamo la frequenza sapendo che la frequenza è l'inverso del periodo:

Quindi abbiamo che la frequenza è di 0,32 Hz, cioè questo oggetto compie 0,32 giri completi in 1 secondo.
Conclusioni
La frequenza la frequenza del moto dell'oggetto descritto prima è di 0,32 Hz
---
THE END