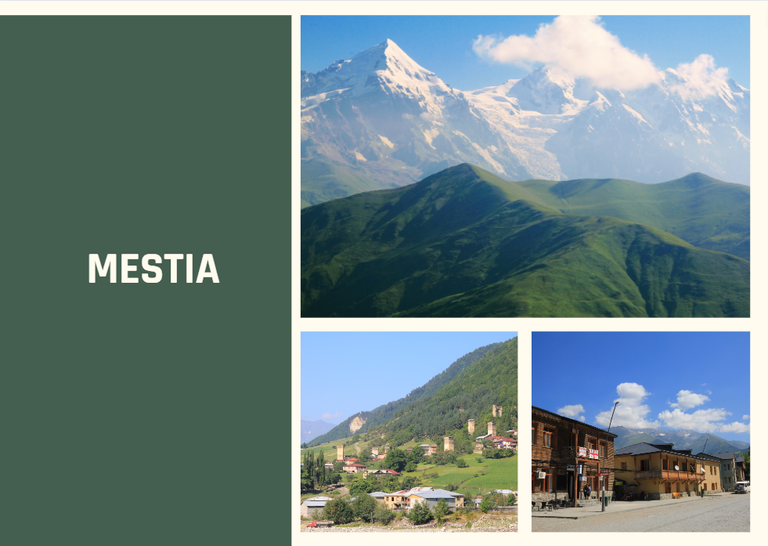 @marianomariano wrzucał ostatnio fajne teksty o Gruzji (https://ecency.com/hive-134382/@marianomariano/upper-svaneti-and-the-towers), które czytałam z łezką w oku, wszak też tam byłam i tak zachwyciła mnie Gruzja! Postanowiłam więc odświeżyć moje wspomnienia i poszukałam moich postów z Gruzji. Jakie było moje zaskoczenie, gdy znalazłam tylko jeden!
https://ecency.com/hive-191315/@asia-pl/powracam-ze-wspomnieniami-gruzja-2014
Byłam pewna, że opisałam wszystkie miejsca, ale jak widać - nie! Musiało mi się pomylić, bo kiedyś, w czasach sprzed hive, prowadziłam własnego bloga podróżniczego i tam zapewne było to opisane. Cóż, tamten blog już nie istnieje, jest moje konto na hive, więc spieszę nadrobić zaległości i wrzucam moje wspomnienia o cudnej Mestii.
@marianomariano recently posted some nice texts about Georgia (https://ecency.com/hive-134382/@marianomariano/upper-svaneti-and-the-towers), which I read with tears in my eyes, after all, I was there too and I was delighted with it Georgia! So I decided to refresh my memories and looked for my posts from Georgia. How surprised I was when I found only one!
https://ecency.com/hive-191315/@asia-pl/powrotam-ze-wspomzaniemi-gruzja-2014
I was sure I described all the places, but as you can see - I didn't! I must have made a mistake, because once, in the pre-hive times, I ran my own travel blog and it was probably described there. Well, that blog no longer exists, I have an account on hive, so I'm in a hurry to catch up and post my memories about the wonderful Mestia.
---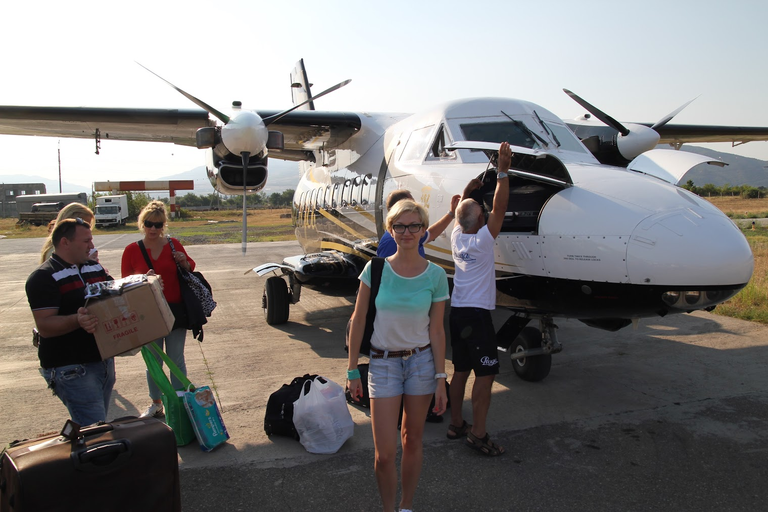 Do Mestii dotarliśmy z Tibilisi samolotem. Latają tam takie małe cuda - OK-PRH Praga Aviation Let L-410UVP Turbolet. Na pokład wchodzi maksymalnie 19 pasażerów, bagaże, które nie zmieszczą się do tego sympatycznego bagażnika luźniutko stoją sobie w tylnej jego części, a Pan pilot przed startem jest stewardem, który rozdaje posiłki i napoje.
We reached Mestia from Tbilisi by plane. Such little miracles fly there - OK-PRH Praga Aviation Let L-410UVP Turbolet. There are a maximum of 19 passengers on board, luggage that does not fit into this nice trunk is stored loosely in the back, and the pilot is a steward who hands out meals and drinks before take-off.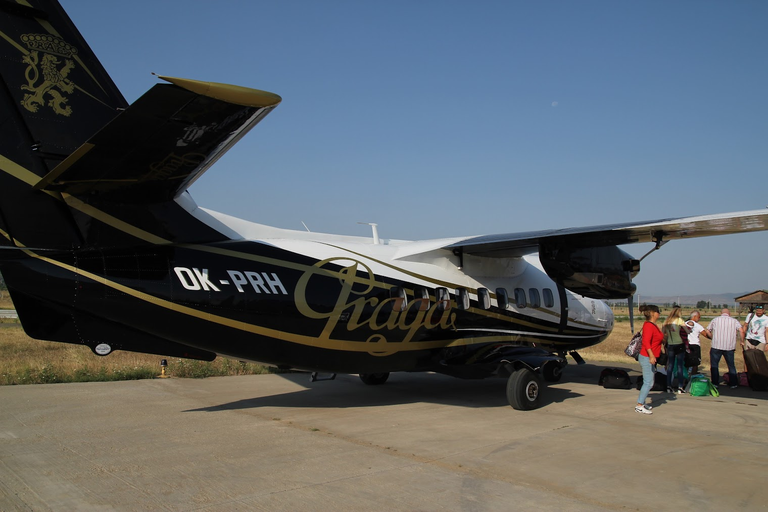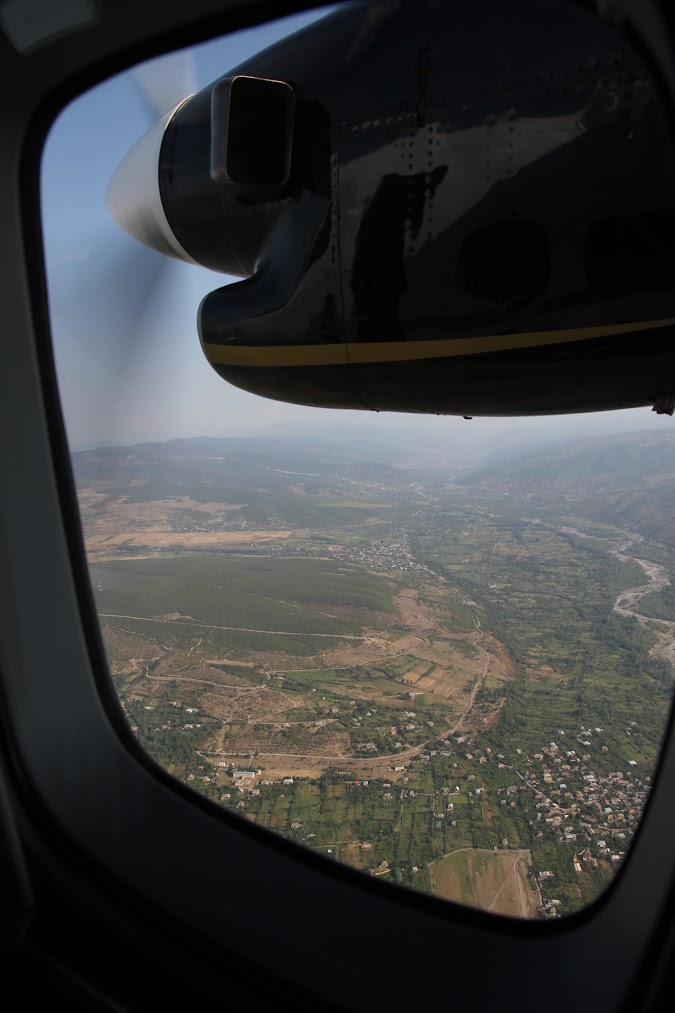 Do pilota można zresztą zaglądać w czasie lotu. Porozmawiać może nie, bo ma słuchawki, ale widzimy go cały czas.
You can also check the pilot during the flight. He may not be able to talk because he has headphones, but we see him all the time.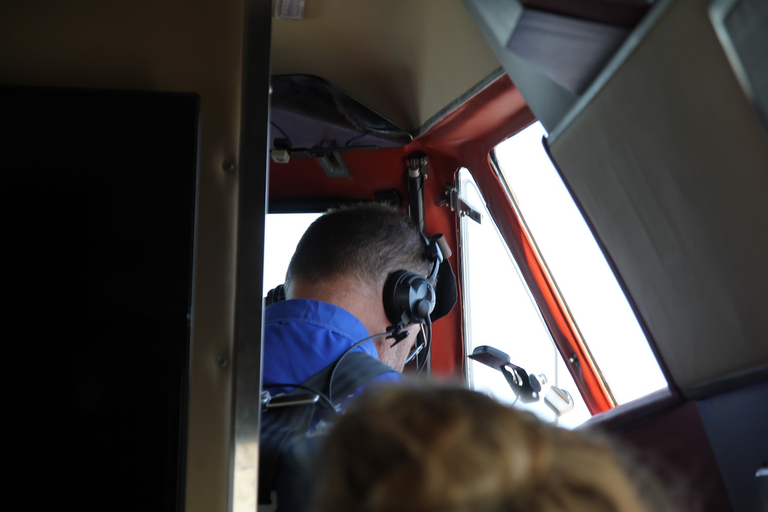 O ile rzecz jasna patrzymy w jego stronę, bo powiem Wam szczerze - widoki zza okna są wprost oszałamiające. Lecimy nad wysokim Kaukazem, brzuch samolotu niemal ociera się o te góry. Przelatując nad granią czujemy drgania / turbulencje. Robi to niesamowite wrażenie, ale jest to też dość stresujące. I niby człowiek jest w zachwycie, patrzy i ogląda, ale z drugiej... chyba trochę chciałby już wylądować ;)
As long as we look towards it, of course, because let me tell you honestly - the views from outside the window are simply stunning. We are flying over the high Caucasus, the belly of the plane almost brushes against the mountains. When flying over the ridge, we feel vibrations/turbulence. It's amazing, but it's also quite stressful. And you seem to be in awe, looking and watching, but on the other hand... he would probably like to land already ;)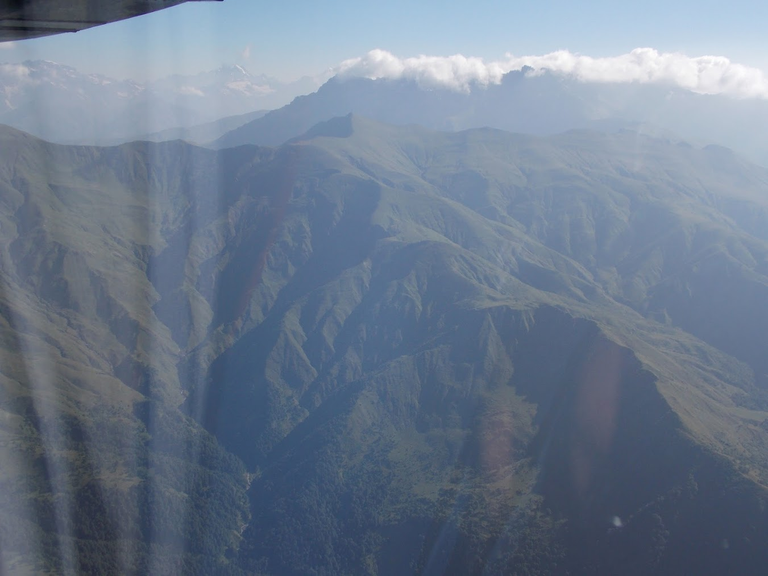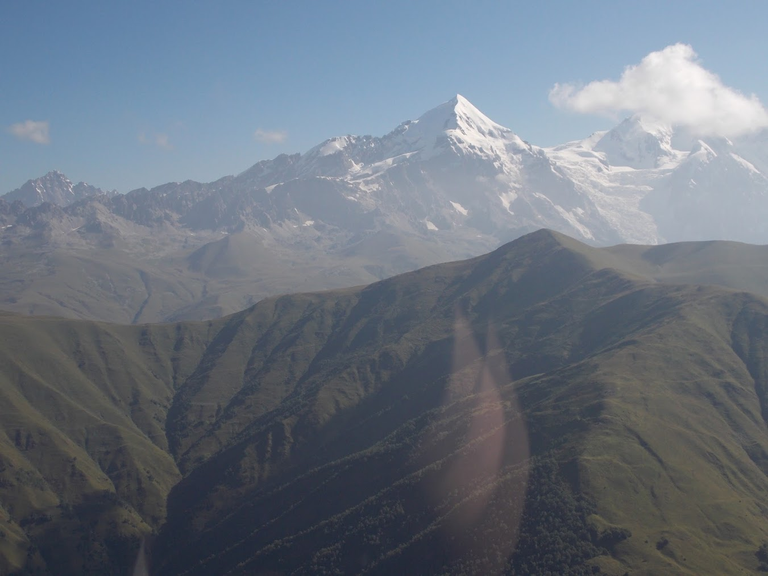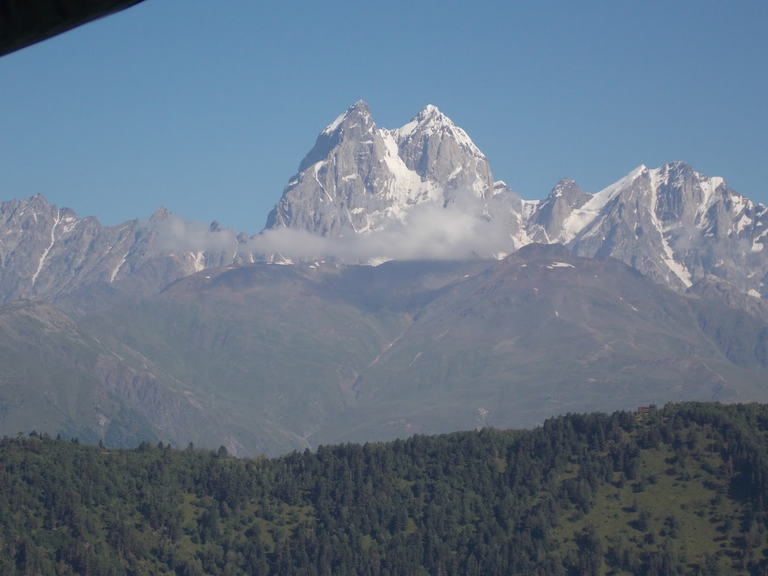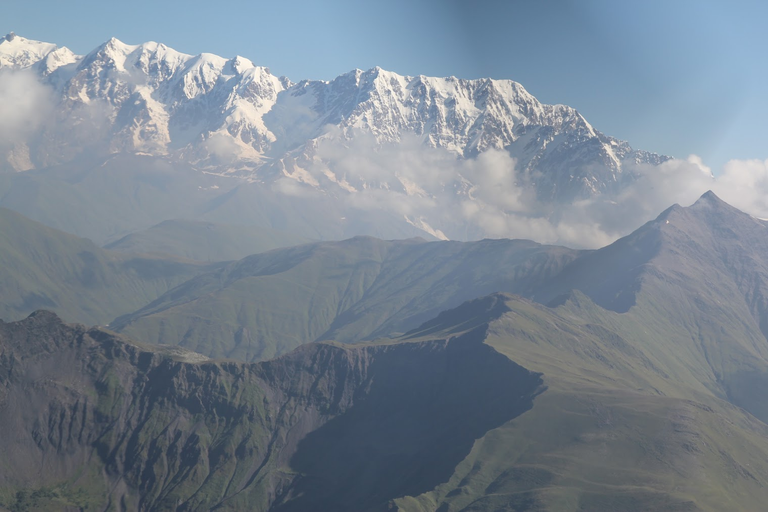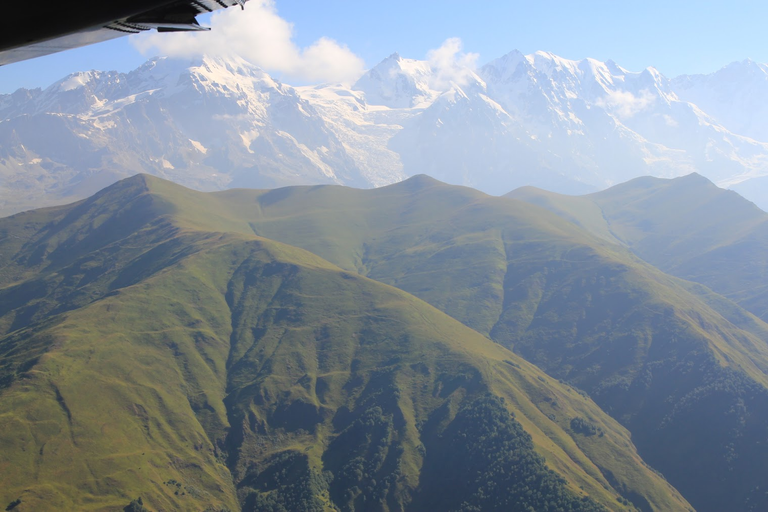 Zbliżamy się do lądowania i już widzimy charakterystyczne wieże Mestii.
We are approaching landing and we can already see the characteristic towers of Mestia.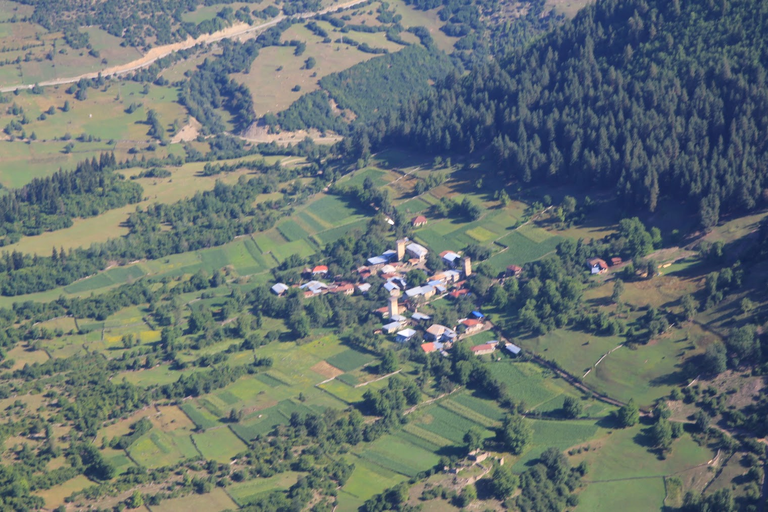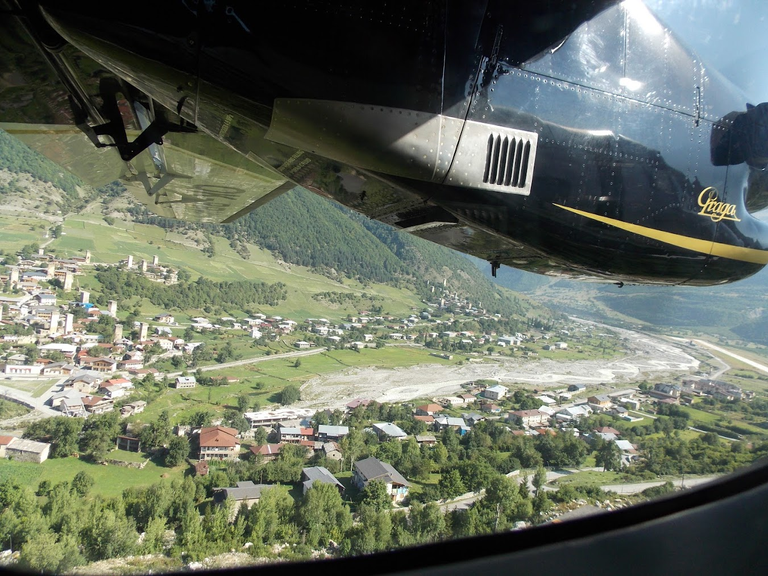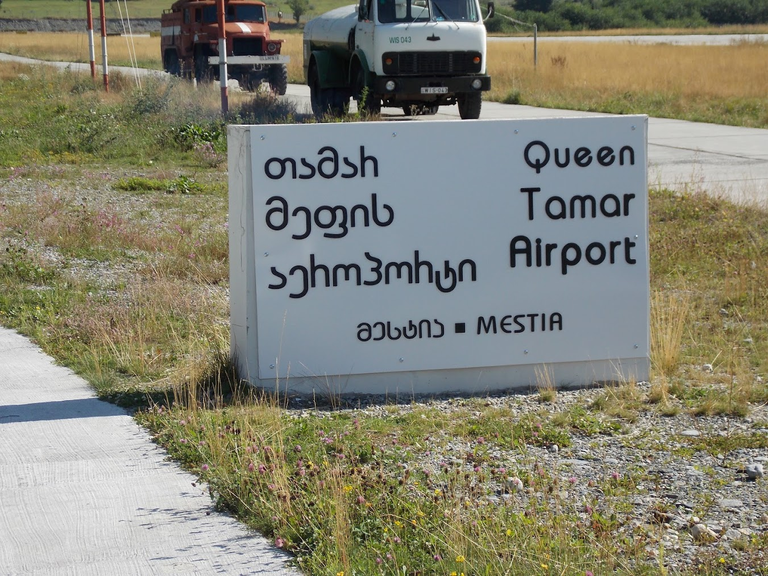 Uff, przeżyliśmy i dotknęliśmy ziemi. Miło! Pora rozejrzeć się po okolicy.
Yeah, we survived and touched the ground. Nice! It's time to look around.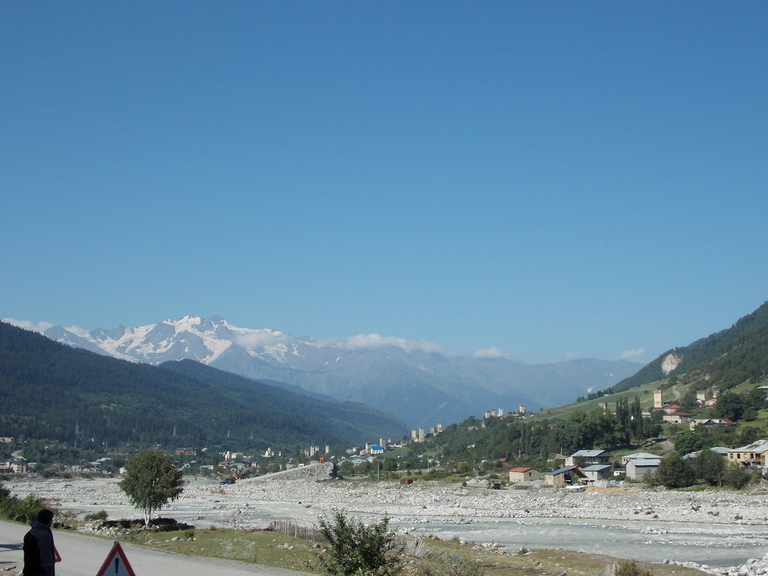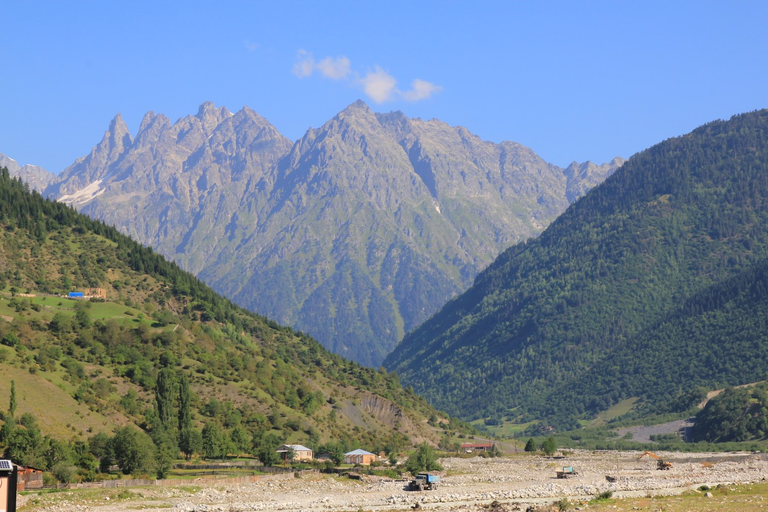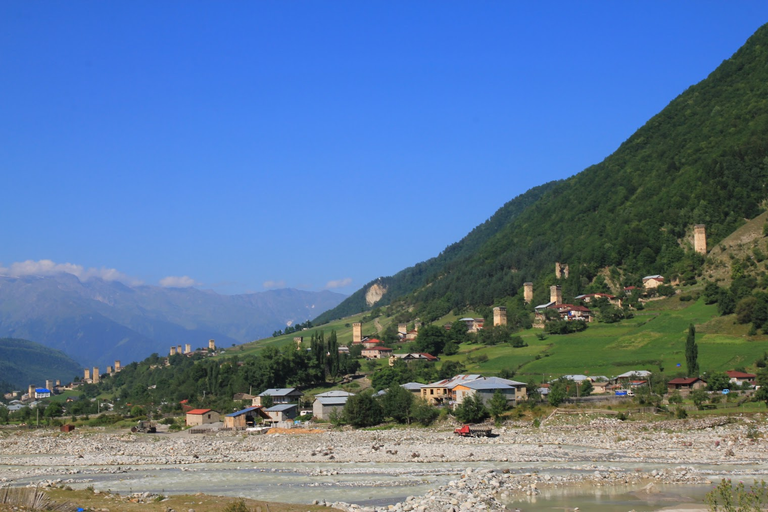 Jest bajecznie, piękna pogoda, cudne widoki.
It's fabulous, beautiful weather, wonderful views.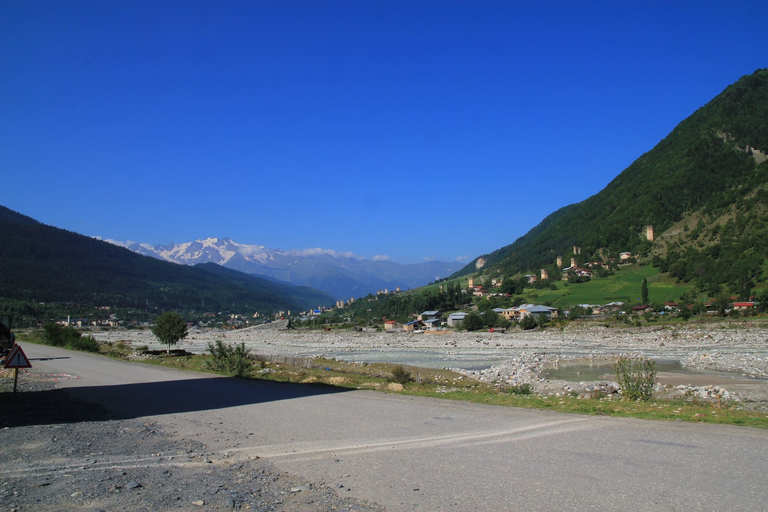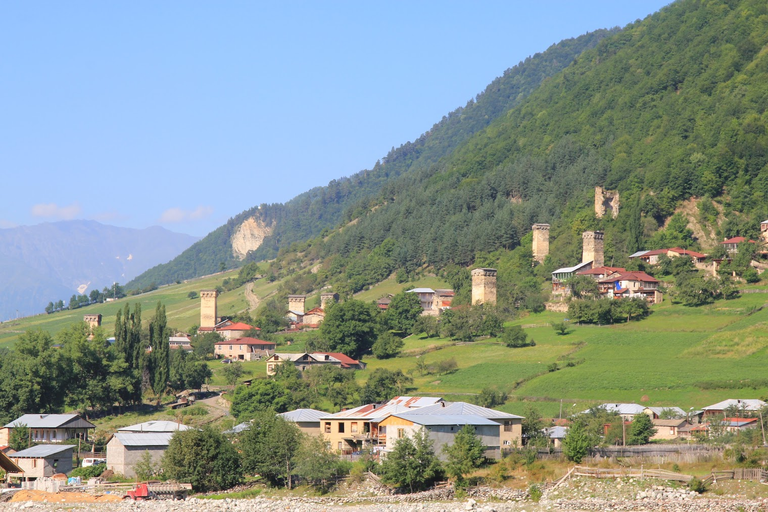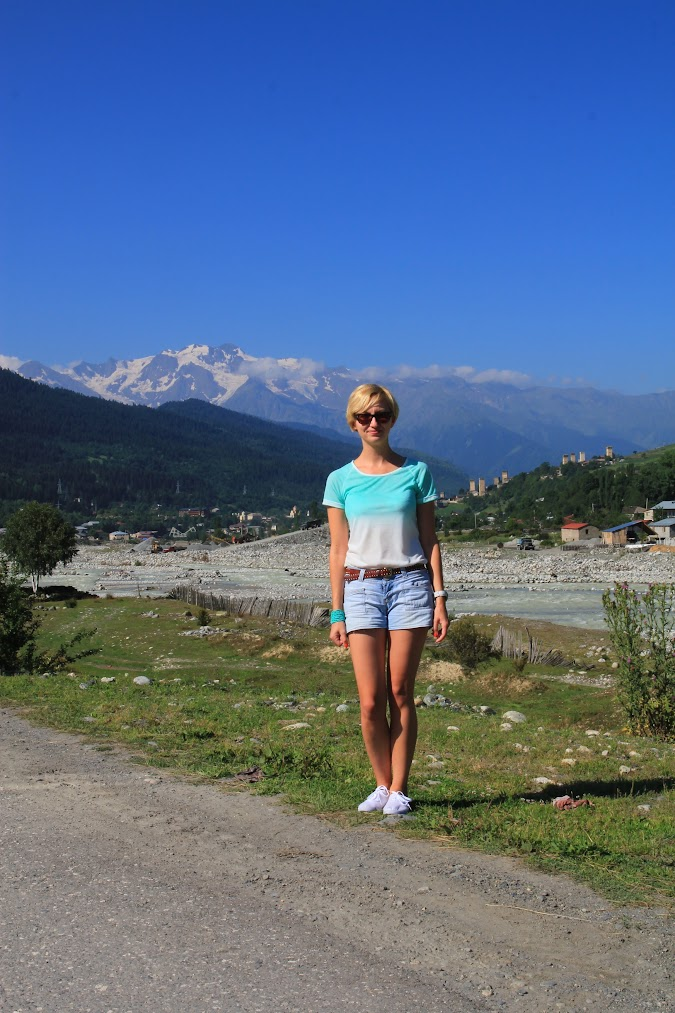 Pora ruszyć w kierunku Mestii i naszego miejsca zakwaterowania. Taszczymy nasze bagaże taką ścieżką pod górę, tylko po to, by dowiedzieć się, że to jednak nie tutaj, nasza uliczka jest gdzie indziej. Z górki, znowu pod górę, i wreszcie, umordowani docieramy na miejsce.
It was time to head towards Mestia and our accommodation. We carry our luggage up this path, only to find out that it's not here, our street is somewhere else. Downhill, uphill again, and finally, exhausted, we reach the place.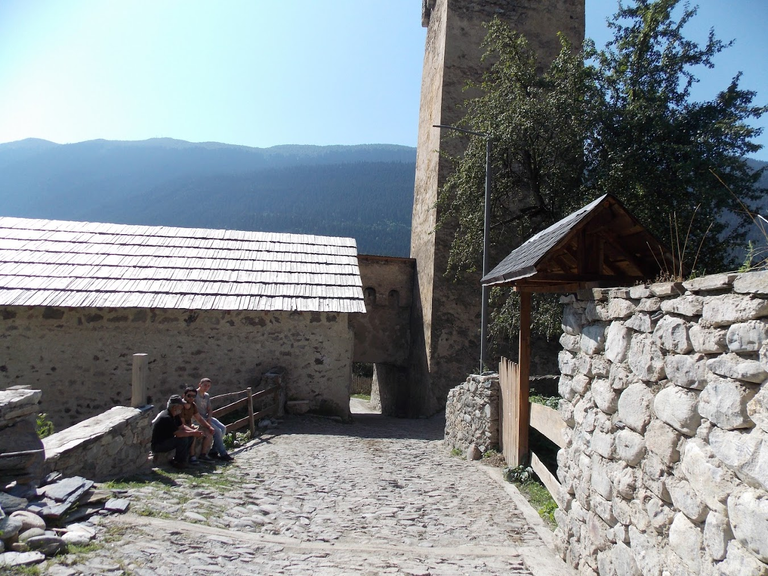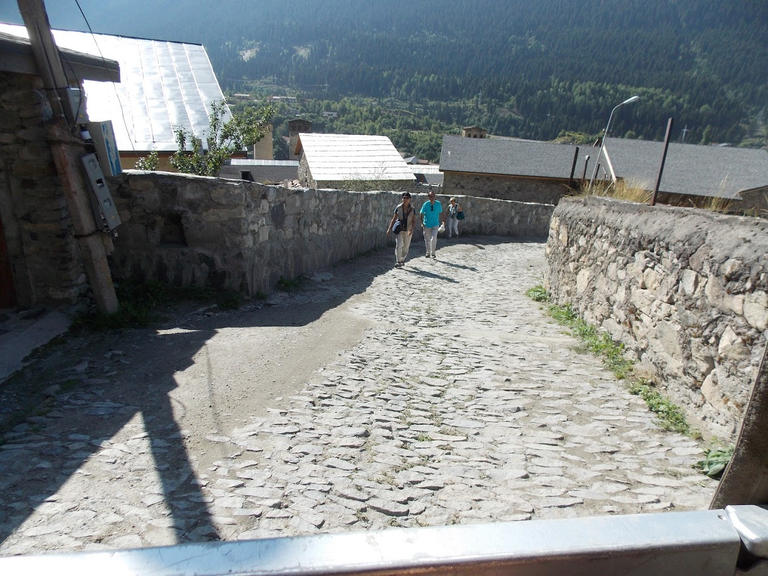 Gruzińska gościnność jest słynna na cały świat. Nie wiem jak to jest teraz, ale wtedy, w 2014 roku, nasza gospodyni od razu powitała nas pysznym poczęstunkiem - kawa i ciasto drożdżowe na dzień dobry.
Georgian hospitality is famous all over the world. I don't know what it's like now, but back then, in 2014, our hostess immediately welcomed us with a delicious treat - coffee and yeast cake for good morning.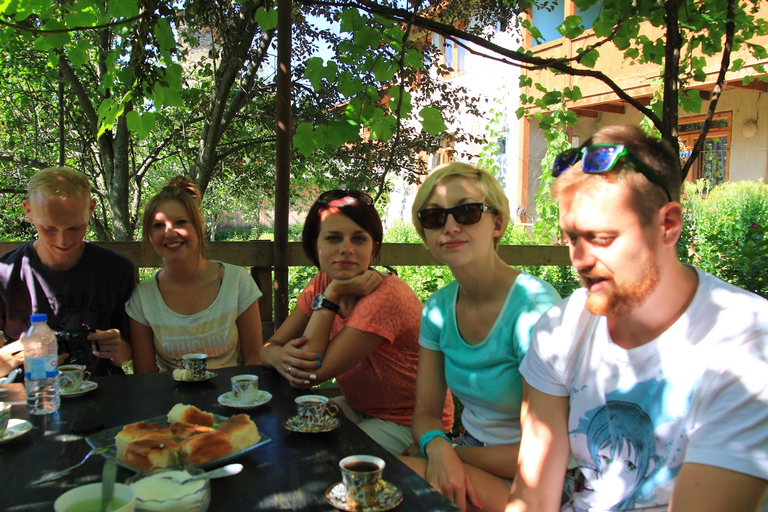 Nasz widoczek z okna. Jakieś niespecjalne zabudowania, ale oprócz tego zielono i ośnieżone szczyty górskie w tle.
Our view from the window. Some unusual buildings, but also green and snow-capped mountain peaks in the background.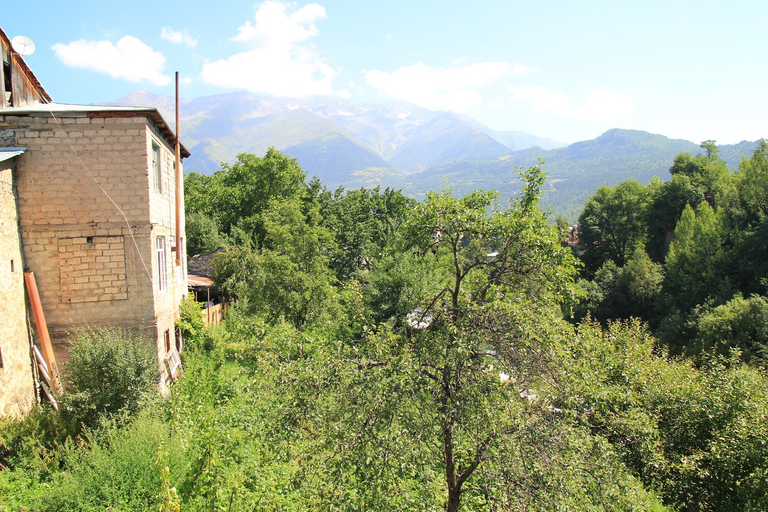 Jest też ogród, w którym wypoczywa rodzina gospodyni.
There is also a garden where the hostess's family relaxes.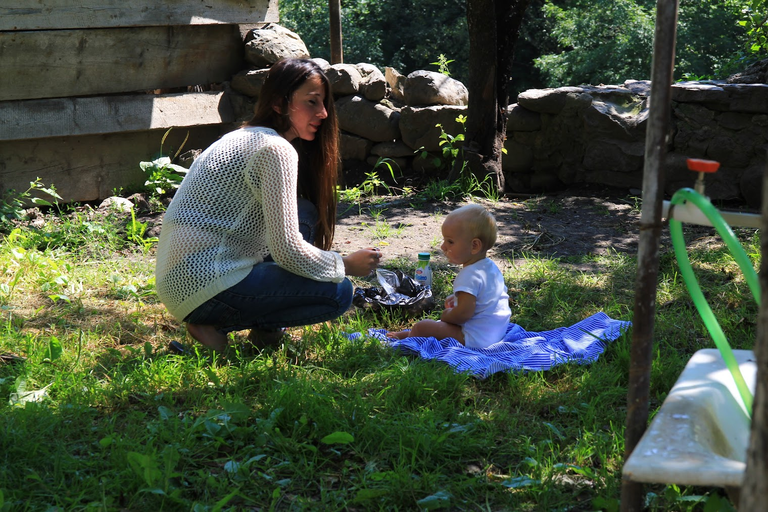 Pokrzepieni posiłkiem i wolni od bagaży ruszamy na spacer w kierunku miasteczka.
Refreshed by the meal and free from luggage, we set off for a walk towards the town.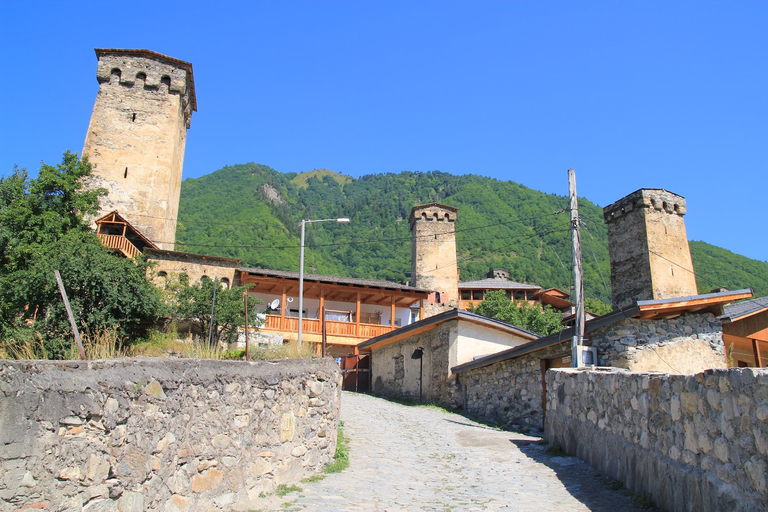 Meble po gruzińsku przewozi się tak, jakby ktoś miał wątpliwości :)
Georgian furniture is transported as if anyone had any doubts :)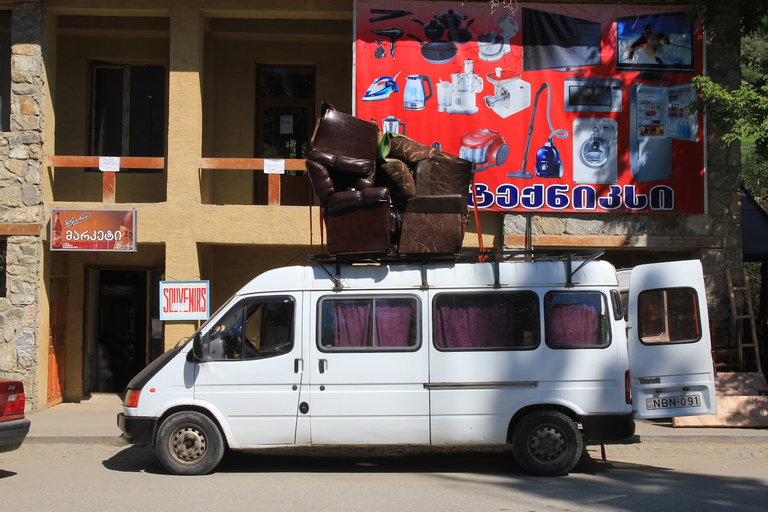 W miasteczku jest dość dobrze znana knajpa przyjaźni polsko-gruzińskiej. Wieczorami odbywają się tam wspólne śpiewy z muzyką na żywo, gdzie zaraz po dari-duri można zaśpiewać gromko naszą rodzimą stokrotkę.
There is a quite well-known Polish-Georgian friendship pub in the town. In the evenings, there is singing together with live music, where immediately after dari-duri you can sing loudly our native daisy song.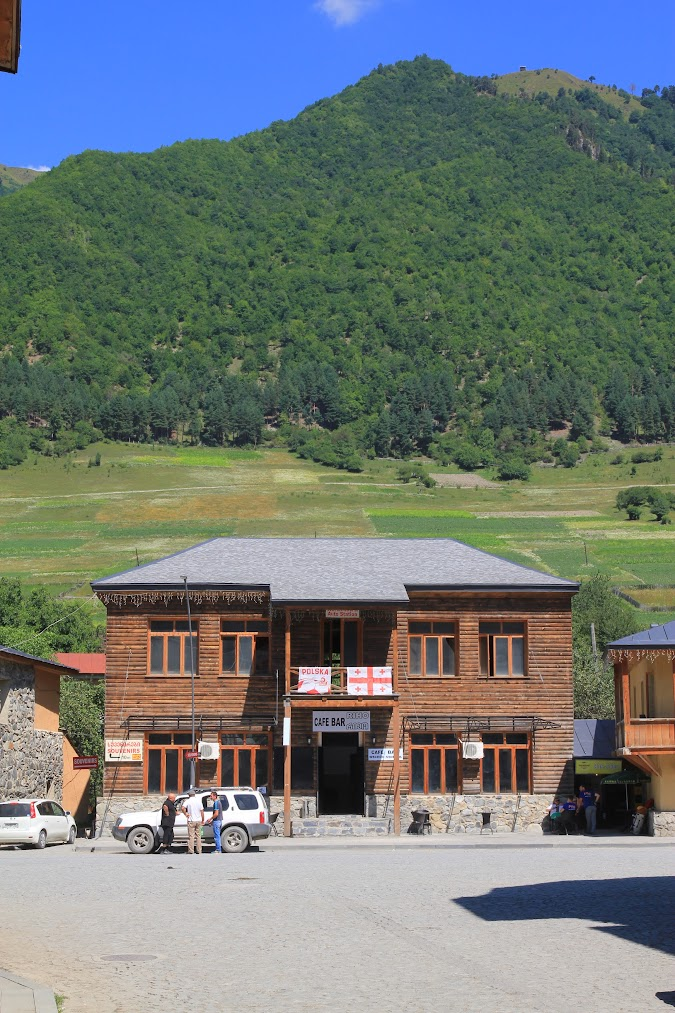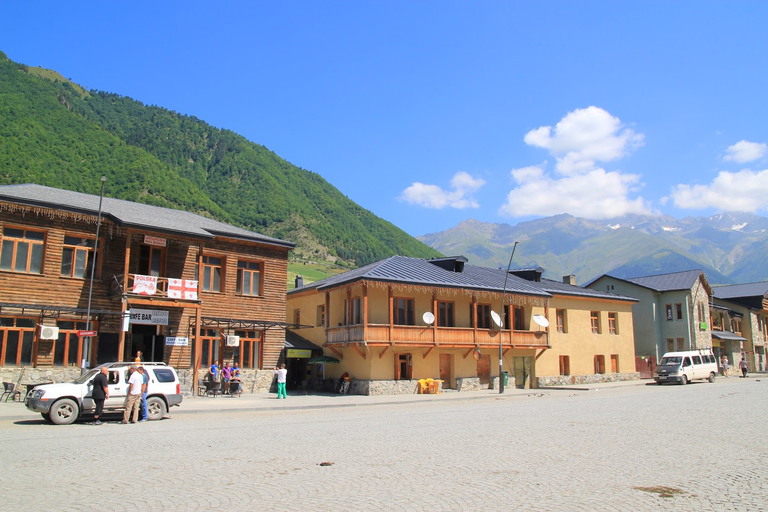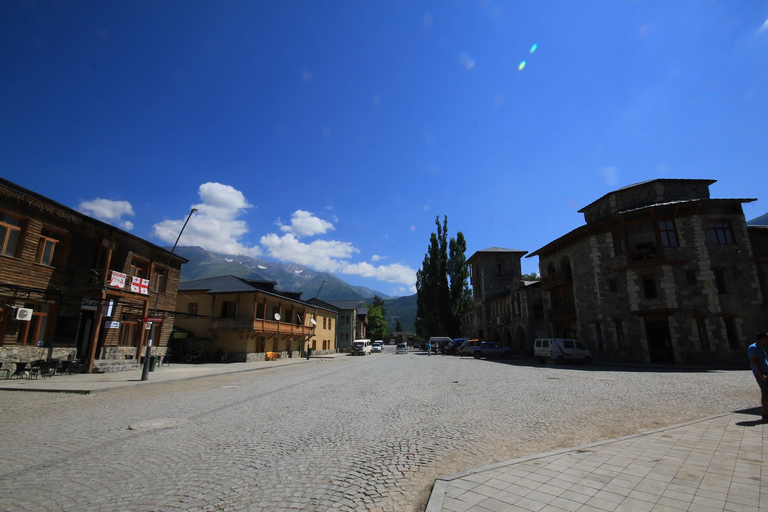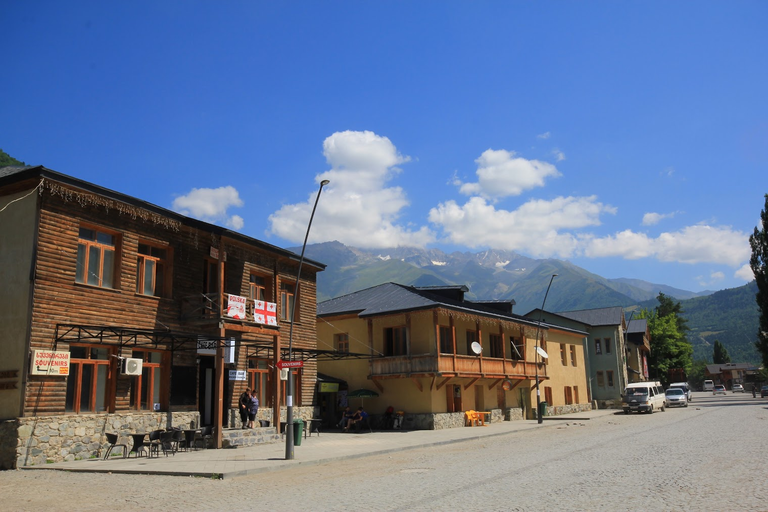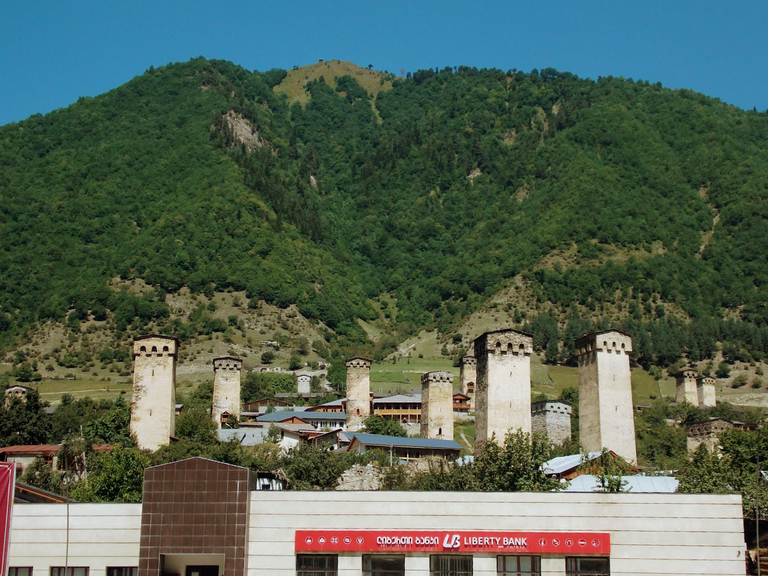 Miasteczko jest maleńkie i rekonesans trwa moment, tak więc postanowiliśmy ruszyć na dłuższy spacer w stronę gór.
The town is tiny and the reconnaissance takes a while, so we decided to go for a longer walk towards the mountains.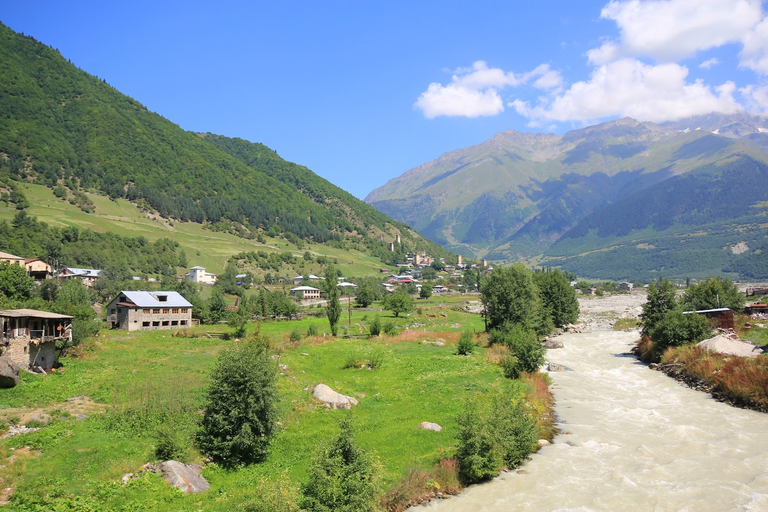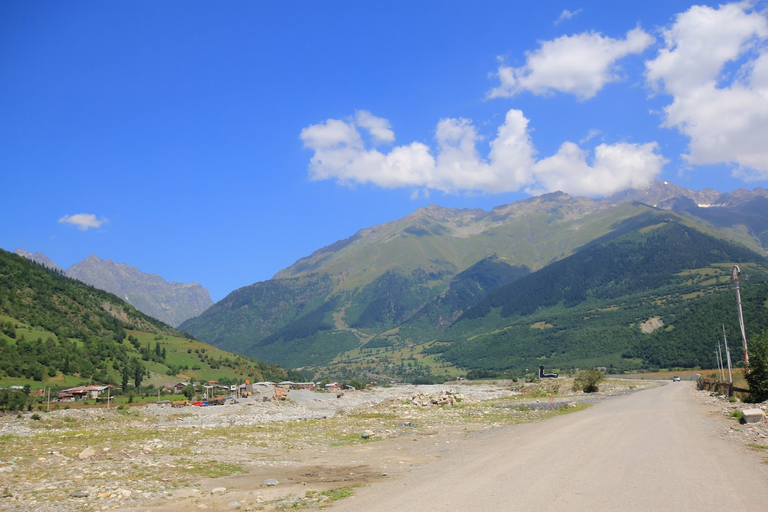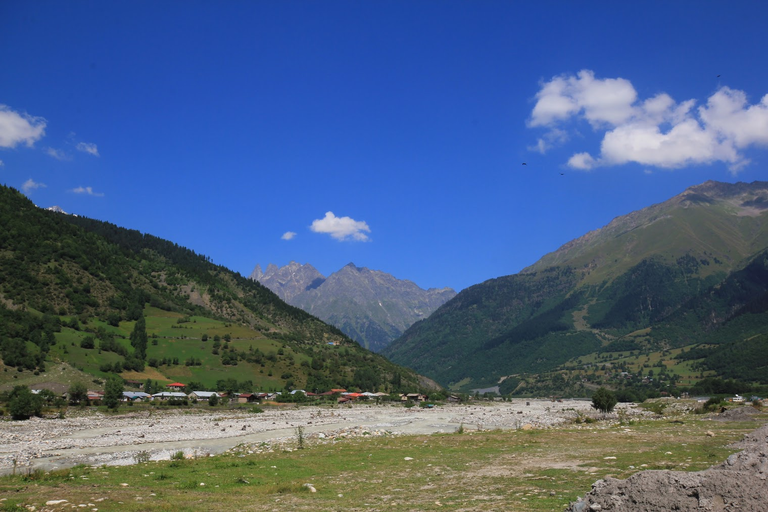 Ten budynek w kształcie litery L to nasze lotnisko. Mijamy je, idziemy dalej, pogoda i ścieżka wprost zachęcają do marszu.
This L-shaped building is our airport. We pass them and move on, the weather and the path encourage us to walk.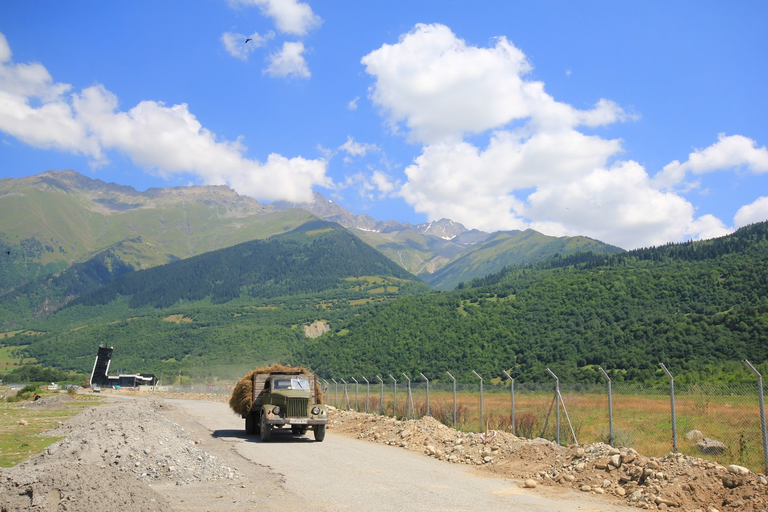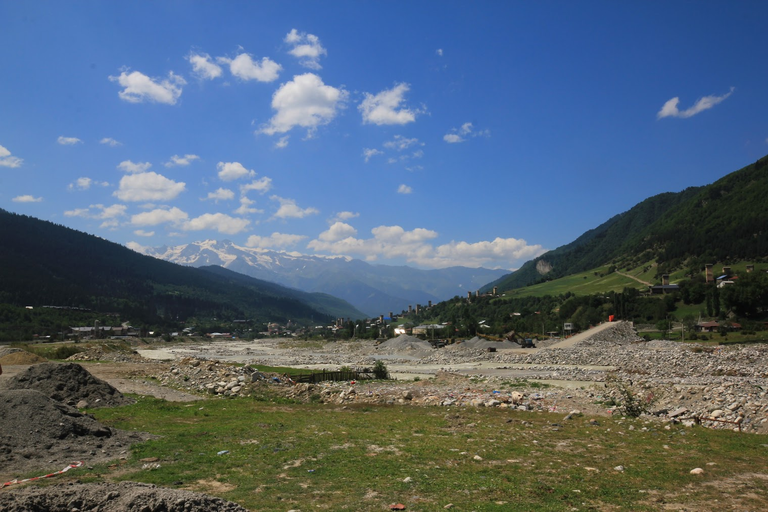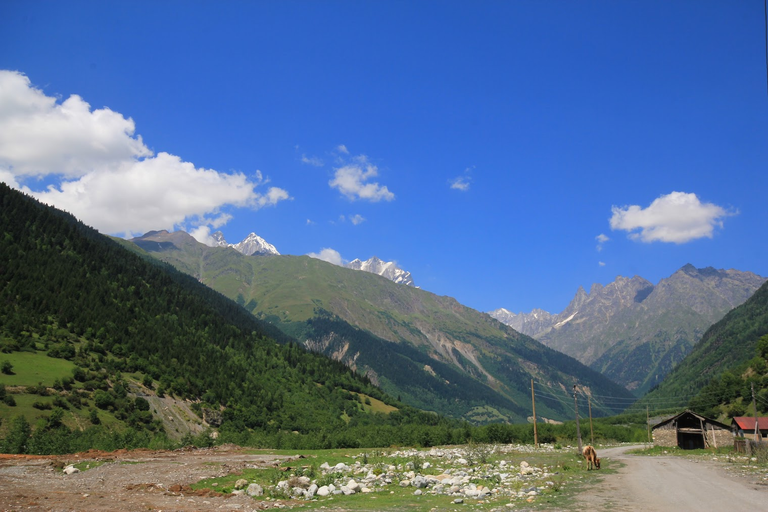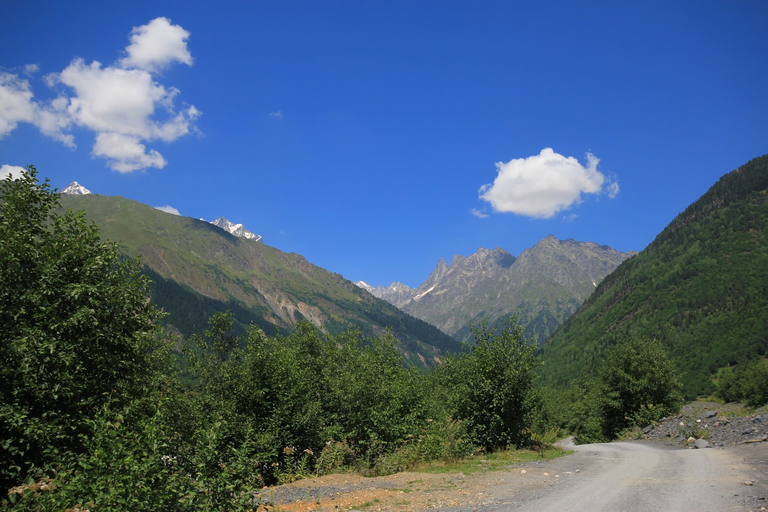 Pamiętam do dzisiaj tą cudną chmurkę, która wisiała sobie nad tym szczytem, niemal przez całą naszą wędrówkę.
I still remember this wonderful cloud that hung over this peak almost throughout our hike.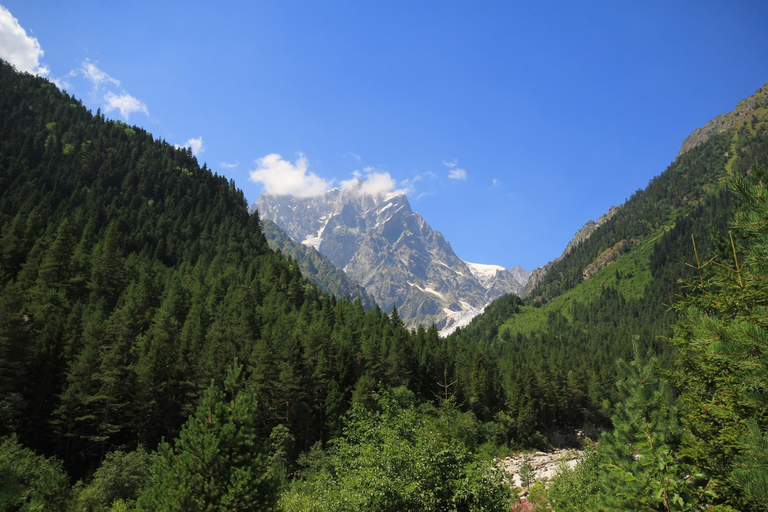 Wędrówka trwała dość długo i wiodła przez drogę szutrową. Potem dotarło do nas, że popełniliśmy zasadniczy błąd. Trzeba było wziąć samochód, żeby podwiózł nas do kresu tej drogi, a potem zrobić sobie spacer górskim szlakiem. Może udałoby się dotrzeć do stóp lodowca? A tak to niestety, szliśmy drogą, niemal 10 kilometrów.
The hike took quite a long time and led along a gravel road. Then we realized that we had made a fundamental mistake. We had to take a car to the end of the road and then take a walk along the mountain trail. Maybe we could reach the foot of the glacier? Unfortunately, we were walking along a road for almost 10 kilometers.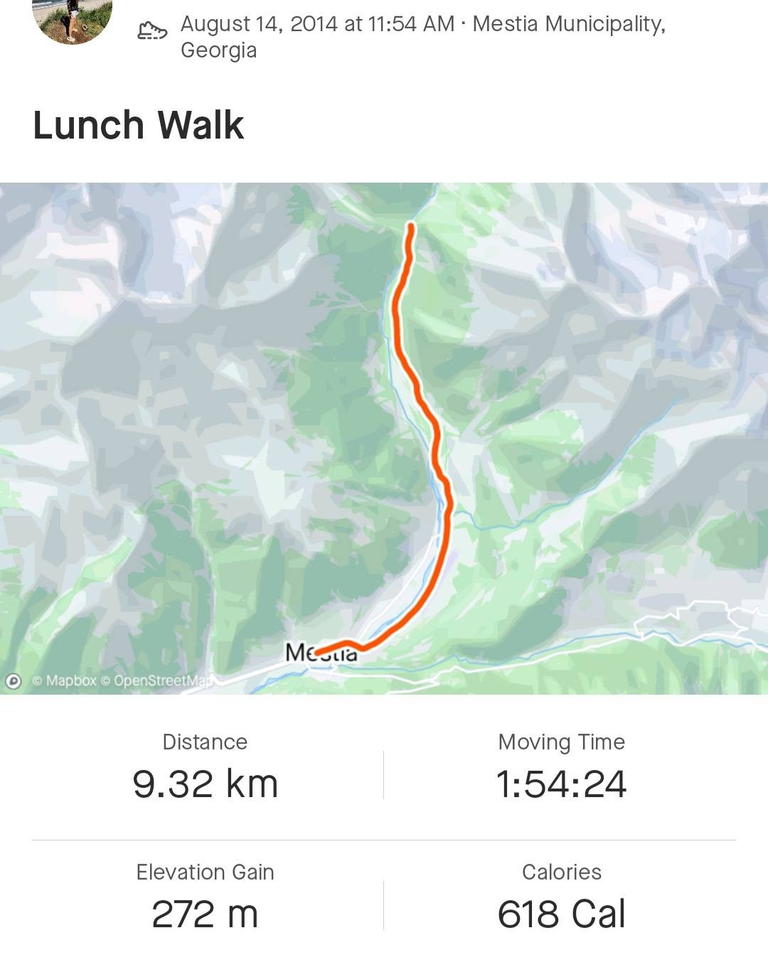 Dodatkowo w dość dużym upale i ja z plecakiem z aparatem i trzyma obiektywami na plecach. Ale co tam, i tak było warto. Tylko szkoda, że kiedy doszliśmy do kresu drogi raczej nie mieliśmy już siły ani czasu by iść dalej.
Additionally, in quite hot weather, I also carry a backpack with a camera and lenses on my back. But whatever, it was still worth it. It's just a pity that when we reached the end of the road, we didn't have the strength or time to go further.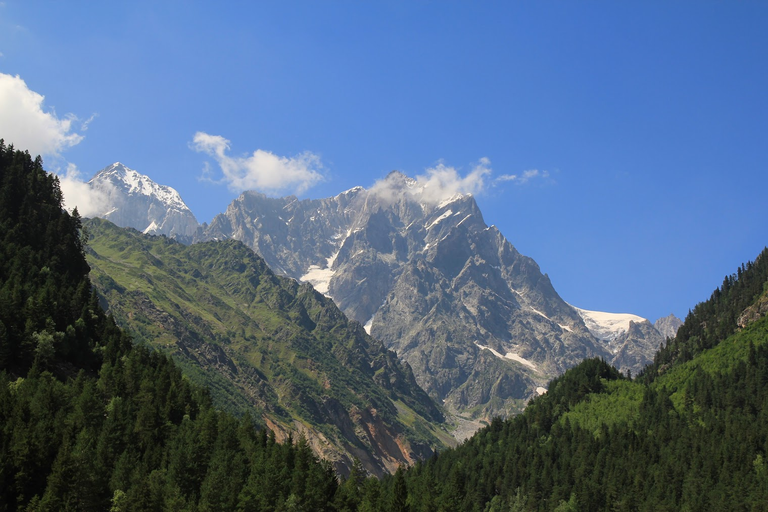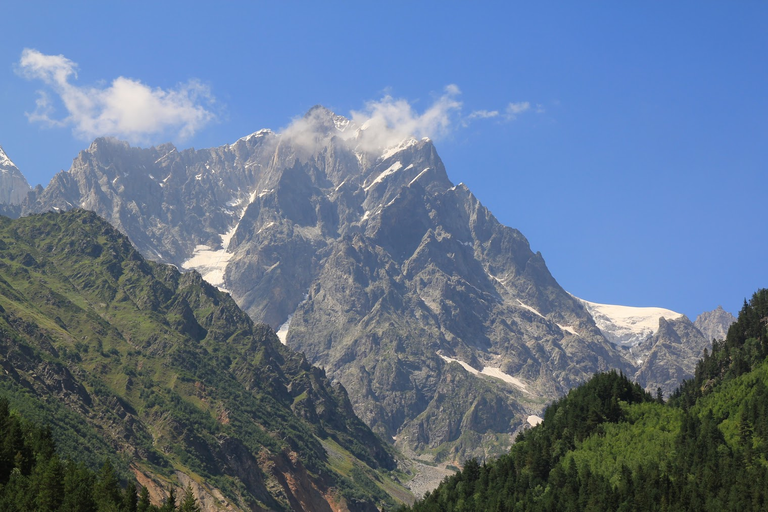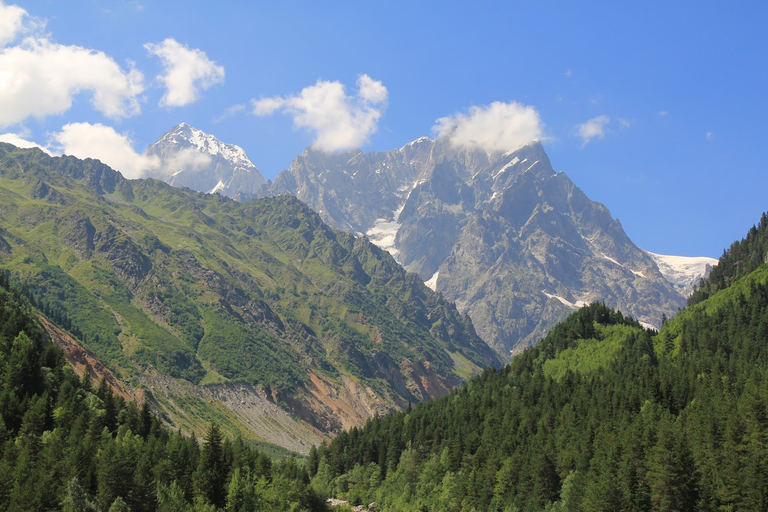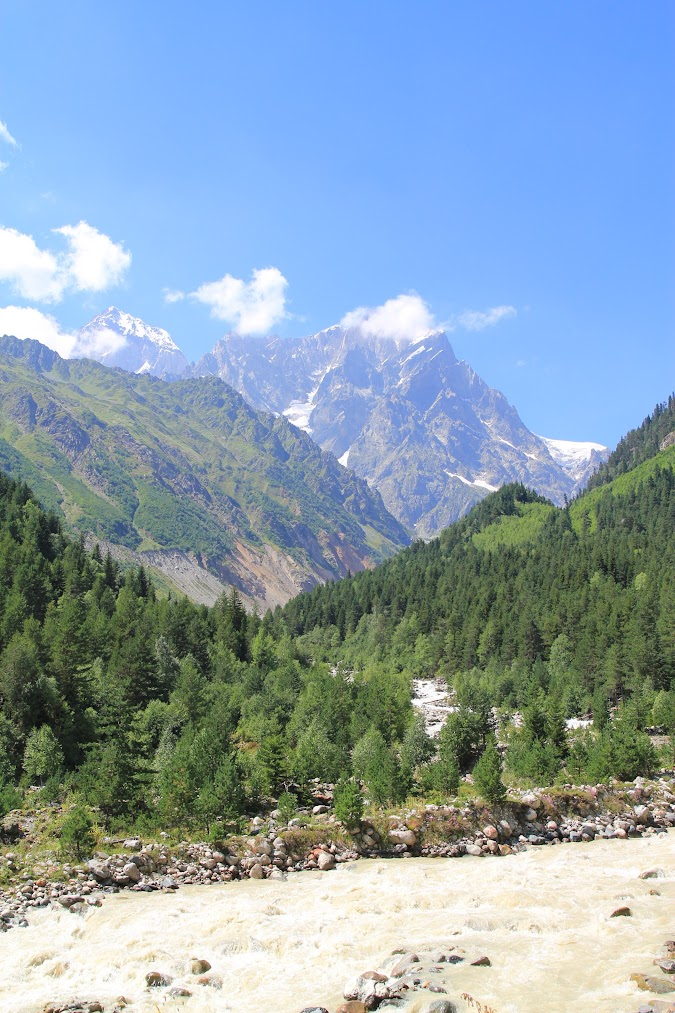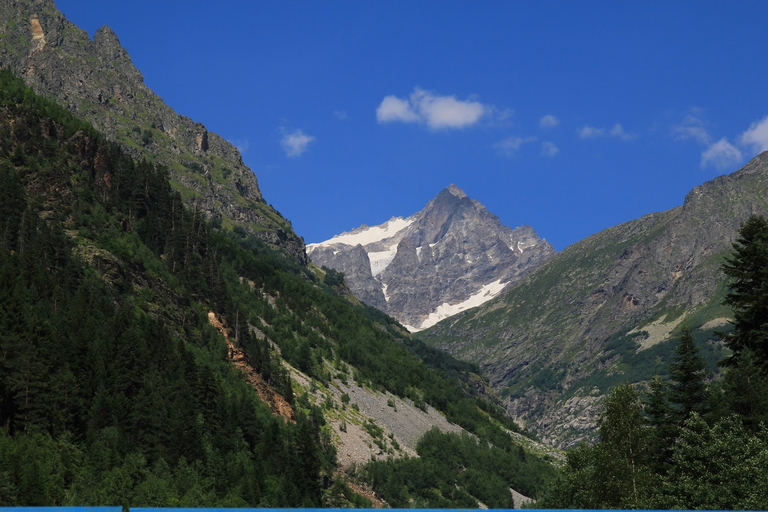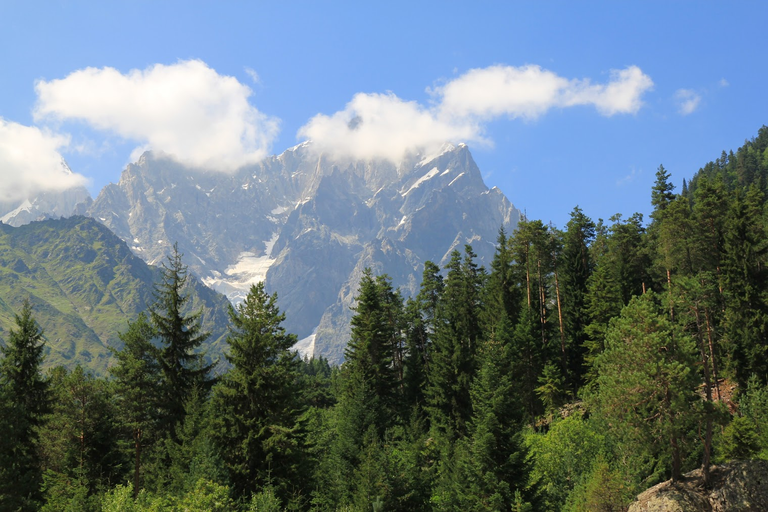 Nie dotknęliśmy więc stóp lodowca, tylko wzięliśmy samochód i wróciliśmy do domu. Może to i dobrze, bo w sumie żadne z nas nie miało na sobie górskich butów. Wszak z domu wyszliśmy po to, żeby przejść się po miasteczku.
So we didn't touch the foot of the glacier, we just took the car and went home. Maybe it was a good thing, because none of us were wearing mountain shoes. After all, we left the house to walk around the town.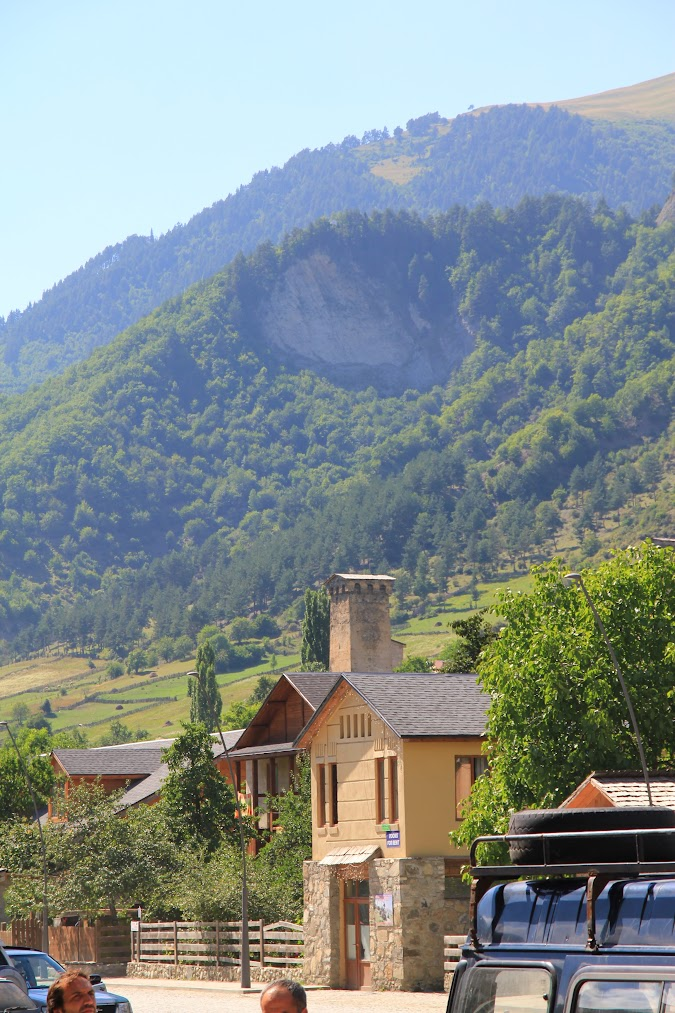 Powrót autem zajął chwilkę, więc jeszcze można było się rozejrzeć po okolicy.
The car ride back took a while, so you could still look around the area.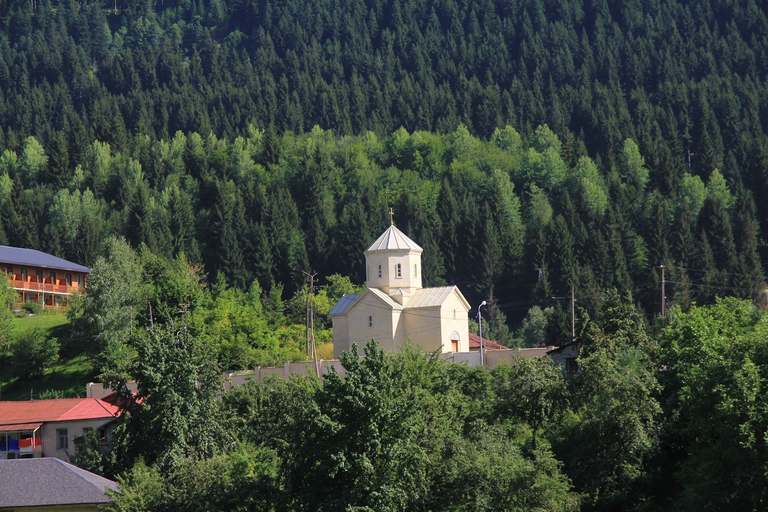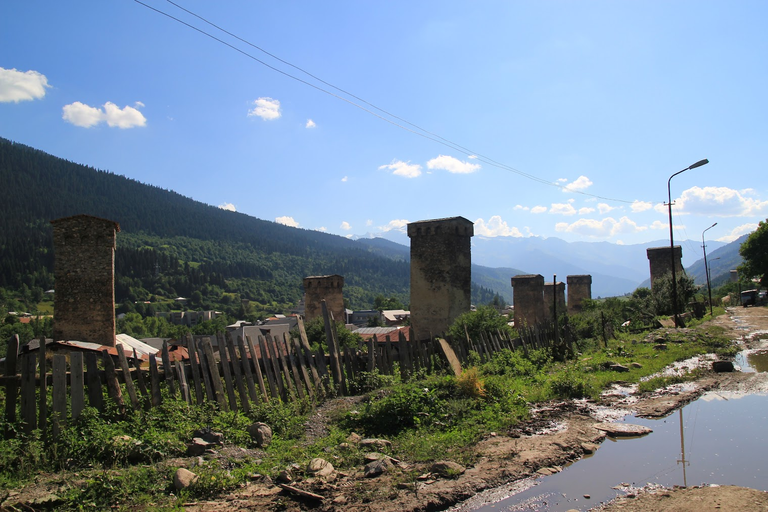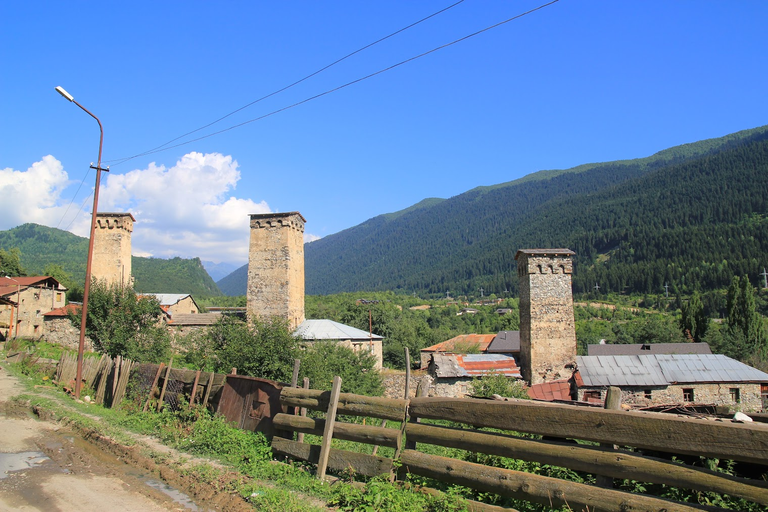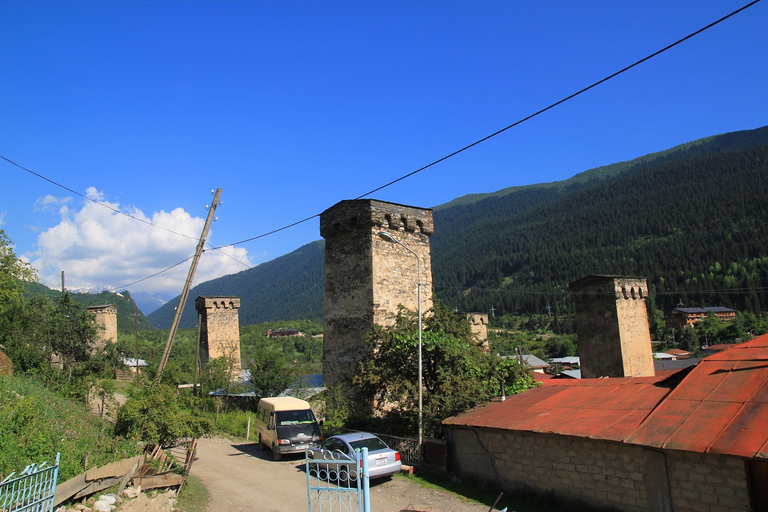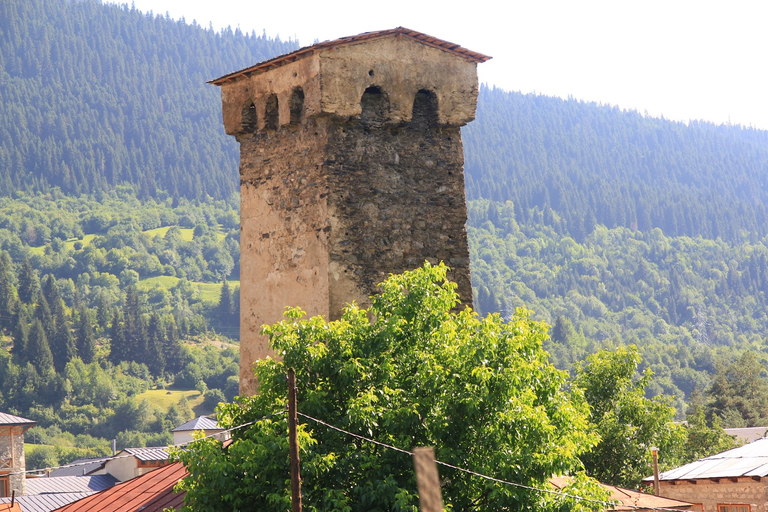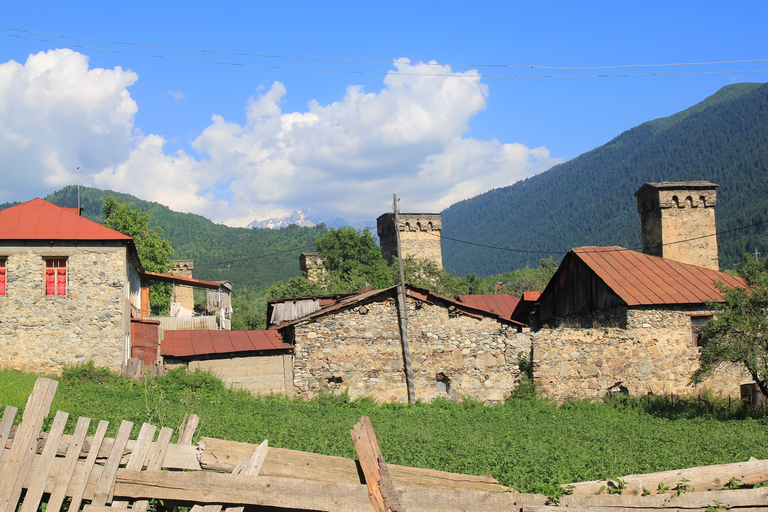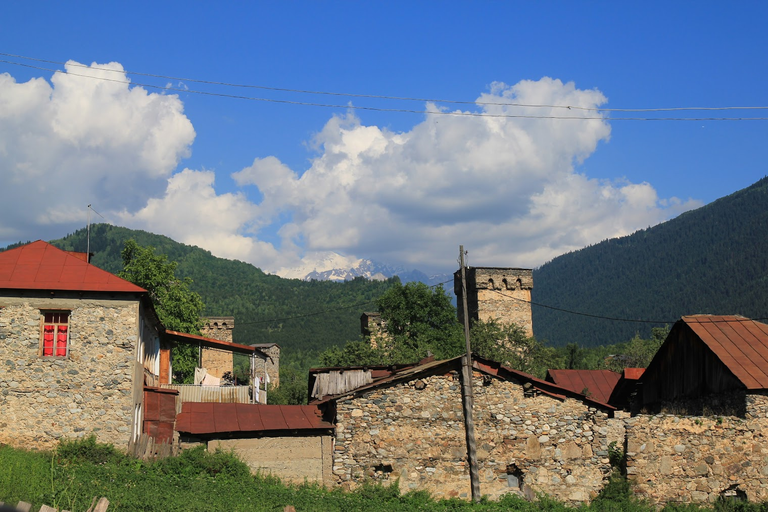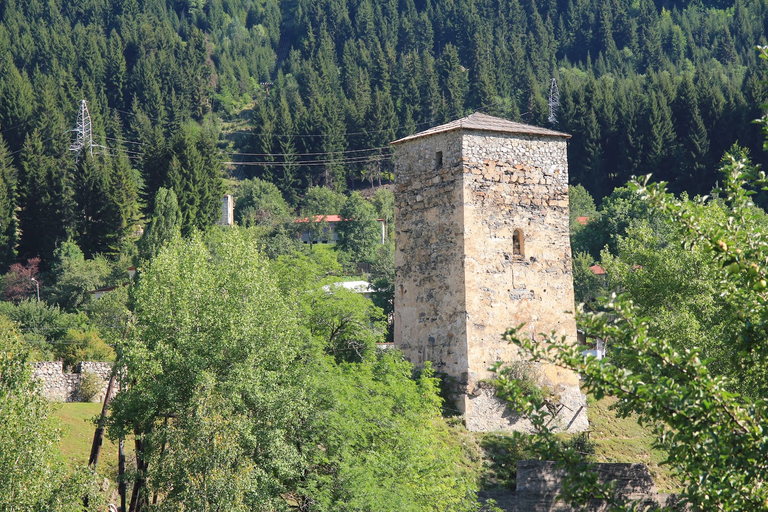 Gościnność gruzińska obejmuje to, że razem z zakwaterowaniem dostajesz pyszny, domowy obiad. Tak było i tutaj.
Georgian hospitality includes a delicious home dinner along with your accommodation. It was the same here.