This is the publication of reading recommendations to finance the hedge fund to stabilize the price of the CENT token at $0.01
We are going to select and vote on 2 daily posts that we find truly interesting for the CENT community.
With this we will support authors so that they continue creating quality content and adding value to the ecosystem.
These are today's picks. Visit them and let them know of their great work.
Chaos Legion Booster Packs Are A Steal Right Now by @rentmoney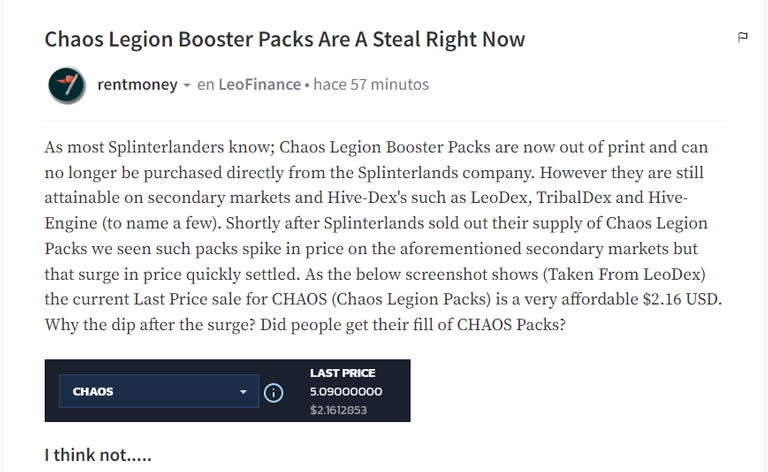 "As most Splinterlanders know; Chaos Legion Booster Packs are now out of print and can no longer be purchased directly from the Splinterlands company. However they are still attainable on secondary markets and Hive-Dex's such as LeoDex, TribalDex and Hive-Engine (to name a few). Shortly after Splinterlands sold out their supply of Chaos Legion Packs we seen such packs spike in price on the aforementioned secondary markets but that surge in price quickly settled. As the below screenshot shows (Taken From LeoDex) the current Last Price sale for CHAOS (Chaos Legion Packs) is a very affordable $2.16 USD. Why the dip after the surge? Did people get their fill of CHAOS Packs?"
THX YOU / Merci by @hive-103505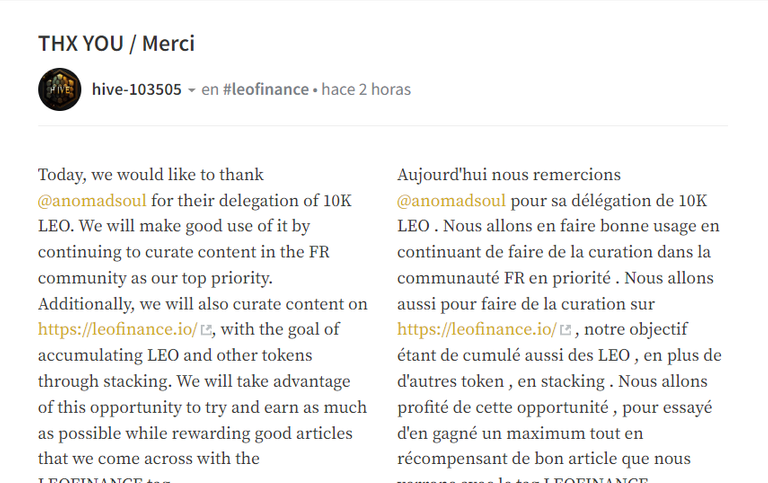 "Today, we would like to thank @anomadsoul for their delegation of 10K LEO. We will make good use of it by continuing to curate content in the FR community as our top priority. Additionally, we will also curate content on https://leofinance.io/, with the goal of accumulating LEO and other tokens through stacking. We will take advantage of this opportunity to try and earn as much as possible while rewarding good articles that we come across with the LEOFINANCE tag."
If you want to support the project and benefit from the stabilizer you can delegate your CENT and LEO tokens to @hiro.guita
We know that it will not be easy and that we will not achieve total coverage, but we will contribute our grain of sand. There will no longer be a reason to undersell the token. You can save it and sell it at a fair price here.